Home United
It's coming home for Home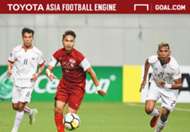 It could have gone all wrong for Home United against Ceres-Negros FC in their first leg encounter on Wednesday night, as after just eight minutes The Protectors conceded a goal.
It seemed as if the narrative the last time these two sides met which ended in defeat for Home, was about to take place when defender Shakir Hamza brought down Ceres' Australian forward Blake Powell in the box, which forced Kim Woosung to call for a penalty.
Powell would slot the penalty with ease. While many expected the Filipino football club to capitalise on their momentum and build on their lead, their spark eventually fizzled out.
Instead it was their opponents who gave a much better account of themselves as they never panicked and kept to their game plan. It must be that said Shahril Ishak and Izzdin Shafiq are such crucial components to Aidil Sharin's quest for success in this competition.
Shahril's experience is such a massive reason for Home's steadiness and his combination with Izzdin in attack always gave the team a chance of getting back into the game. Their combination bore success when in the 23rd minute a smartly taken corner by Home's captain allowed Shahril to connect with a brilliant header that bounced off the crossbar, with Isaka Cernak there to head in the rebound.
On the other hand Izzdin proved himself to be a real leader of this team. Spurring his teammates on and battling in midfield, he underlined his worth as not only as one of the top midfielders in Singapore but also regionally. Also it must be mentioned that Home were without Song Ui-Young who failed to travel despite being declared fit by doctors on Monday.
For coach Aidil, he will now realise that his team definitely has a chance to make history and qualify for the Inter-zonal Final, especially with an away goal that puts them in the driving seat when the two teams meet next week at Jalan Besar.
With an away goal advantage, Home are likely to let Ceres dictate play at Jalan Besar as they look to hit them on the counter. Success is placed firmly in Home's hands and there is no reason why the trophy can't come home to Singapore.
Singapore football is in need of a success story and Home can deliver that story because this writer is confident that 'It's coming home'.