Kerala Blasters
Kerala Blasters: Matej Poplatnik ready to start where Iain Hume stopped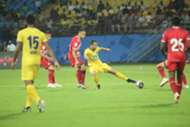 Slovenian striker Matej Poplatnik has a tough task at hand - to follow the footsteps of Iain Hume - somebody who had gained fame for his never-say-die attitude. 
The 26-year-old has made it a habit to rack up goals in his home country. He had always delivered when it mattered and when Kerala Blasters, an Indian Super League (ISL) side, came calling in the summer of 2018, it was not a question of ability but that of adaptability that was posed to him. 
According to head coach David James, the Kerala-based club and the Indian league have moved away from the concept of signing a 'marquee' player. The experiment with Dimitar Berbatov had backfired spectacularly and there was a need for change. 
The club parted ways with its trusted servant and all-time top goalscorer Iain Hume and Kerala Blasters' trophy hunt turned into an audition for fresh faces. It was then that former Triglav Kranj forward got a call from more than 7,000 kilometres away.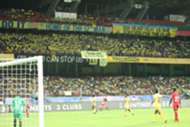 With a smile etched on his face, Poplatnik told Goal, "I did not expect an offer from Asia. My first reaction was to learn more about Blasters and look over the internet."
Poplatnik learned about the club and its fans very quickly. He did not have to raid the internet to know about a fan base that is regarded as one of the best in the country. As soon as the rumours about the signing spread, Manjappada had flocked into his inbox with queries and wishes. 
"I did not expect so many messages from the fans. A month before I arrived, I started receiving so many messages, it is unbelievable. There are too many messages. I can't respond to all of them but I can say that they are really good supporters. The support was on show even when we lost 0-6 to Melbourne City."
Playing for Slovenian top-tier side Triglav Kranj, Poplatnik scored 42 goals in 58 league appearances in the last two seasons. This is an impressive record for a foreign player signed by an Indian Super League (ISL) club.
"I'm first and foremost a striker but I can also play on the wings. I try to do my best in each training session. When the match starts, I am focused and wants to help my team win. I am a striker so I need to score goals," said Poplatnik.
The growth of Iain Hume at Kerala Blasters is a success story that is unmatched by any other player in the league. While his departure has left a void up front, Poplatnik is ready to fill it in the best way he can - by scoring goals. If he succeeds, it won't be long before we hear cheers for 'Popettan' by the same crowd that cried out loud for 'Humettan' at the yellow tinted JLN stadium in Kochi. 
"My plan is to be the top scorer of ISL. I want to help the team reach the playoffs and win the title. We have a lot of good players at Blasters. Everybody has something special.`My personal goal is to score as many goals as I can.
"I have watched Iain Hume. He is a very good player and he scored a lot of goals (for Kerala Blasters). I know I am stepping into big shoes but I don't feel the pressure. I have also scored many goals (previously) and it is normal that fans here expect a lot of goals from me. 
"The team and the staff are supportive. They accept me as if we have been playing together for five years," the Slovenian concluded.
Matej Poplatnik has a story to tell - one that is full of goals, assists and trophies. But how real would that story be? Supporters will soon find out.