Indian Super League
ISL 2018-19: Delhi Dynamos have a responsibility to play entertaining football, says Josep Gombau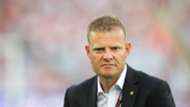 Delhi Dynamos head coach Josep Gombau aims to win the Indan Super League (ISL) by playing an entertaining brand of football. 
The newly appointed Spanish coach feels it is essential that clubs adopt an eye-pleasing style of play so as to bring more supporters into the stadium and help football in India grow.
"The aim of every single coach is to win the league. We try and after that, you don't have any control over what happens. The team might start with certain difficulties but with some good results, things will be positive. I am very happy with the squad that I have. I am confident but the league will be very competitive but we will try to win.
"When you are from Spain, you grow with this certain philosophy. I am from the Barcelona academy and I understand football in a certain way. If you go to an English coach then his understanding will be different. Every country has its own style and the coach belonging to that country will stick to the same style.
"More than tiki-taka, we like to have the ball and attack. We have the responsibility to play entertaining football as well so that the fans who come to see us can enjoy. People come when they enjoy and in this way, football in India will grow," opined Gombau.
The former Western Wanderers coach said that he liked what he saw in Indian Super League. "I was previously working in Australia and when I turned on the TV, I saw the Indian League. I liked what I saw. Then this opportunity came to me and I find a lot of potential in this league. 
"We found India as an interesting country and we see a lot of potential here. This is a country where there is a challenge to do something big. As a coach or a player, you like that and you want to come.
"In terms of being a coach, you need to implement your philosophy and style of play. The good thing about India is that the players are willing to learn. That makes our job easier.
The Spanish coach reserved special praise for midfielder Marcos Tebar, who sealed a return to the Lions this summer after a season with FC Pune City.
"Marcos is a very good player. He has the potential to build this project. Apart from that, he is a good guy. He is friendly with everybody. Indian players look up to him. This type of player with an open mentality to help is very important for the squad."