Indian Super League
ISL 2018-19: Bengaluru FC's Carles Cuadrat - Jamshedpur are a completely different team this season
and Sooraj Kamath in Bengaluru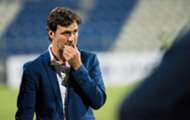 Bengaluru FC will host Jamshedpur FC at the Sree Kanteerava stadium in Bengaluru on Sunday. 
They had beaten defending champions Chennaiyin FC 1-0 in their opener last weekend.
Jamshedpur FC too won their first match of the season 2-0 against Mumbai City FC and the Blues head coach feels that the Men of Steel are a revamped unit. 
"We saw last week that they were very good against Mumbai (City FC) when they have the ball. They can construct good offensive attacks. Our plan will be to be competitive and to keep the ball and work with the advantage of the strikers who we have. You saw in the second half (against Chennaiyin FC) the other day that we had many chances. We are also good in set-pieces so we will try to surprise them in that as well," said Cuadrat.
Bidyananda Singh will miss the match due to an injury but Dimas Delgado will be available for selection. On the other hand, Tim Cahill is set to make his debut for Jamshedpur FC and Cuadrat tipped the Australian to hold an advantage against Miku.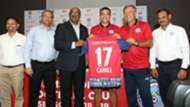 "They (Tim Cahill and Miku) have got a lot of experience with them and they can make quite a difference. As for their specific individual skills, Cahill is very good in the air, Miku is not a specialist (in that department). Also, inside the box, Cahill can be dangerous while Miku is also able to make the last pass in the (opposition's) half of the pitch. For sure, they offer a lot to their teams," he mentioned.
Cuadrat will be hoping his team manages to score more than just a goal after a 1-0 win in the opening game. 

"I think we were not defensive at all (against Chennaiyin FC)," he insisted. We will try our best to put up a good show and score goals from whatever chances we get. We had the first chance within two minutes and in the second half, we had a lot of chances. It means that there was a desire to score goals and we were not happy with 1-0. You cannot be happy with 1-0. You always try to arrive towards the last moments of the game in stressful situations."

Speaking of his side's chances against a revamped opponent, Cuadrat revealed that Miku has let them in on details about the Jamshedpur coach. The Venezuelan had worked with Cesar Ferrando while he was at Valencia B and Gimnastic.
"I think they (Jamshedpur) are a completely different team from last season. They have a very good Spanish coach in Cesar Ferrando who has a lot of experience. He also coached Miku. So Miku told us about the way he works," stated the Spaniard.
"They (Jamshedpur) have also brought in four Spanish players," Cuadrat continued to explain. "When you add Spanish players in the team you know that you can expect more work with the ball. So they will try to work with the ball tomorrow and try to make opportunities. They play a good game. Now they also have Tim Cahill for the (to improve) finishing. 
"We have been working very hard and I am happy with the work done in the past week. I expect that we can also have a nice game. So let's see who is the winner."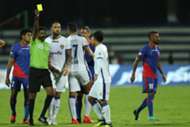 A few Bengaluru FC players were under pressure against Chennaiyin FC, according to their coach.
"The main problem that I saw last week, (was that there was) some kind of stress in some of our players. If you noticed against Chennaiyin, they were making unforced errors. Another problem was conceding unnecessary set-pieces. So we are working on giving our players the confidence to not make such kind of mistakes because we know that Tim Cahill and Tiri are good players when it comes to set-pieces," be observed.
The Blues tactician went on to make an interesting point about teams facing sides who like to keep the ball.
"In football, a lot of times, goals are scored because of set-pieces or transition because a team is trying to build up the game. They lose the ball and some gaps are created. You can see that with the Spanish national team. Because Spain was so offensive, the other team took advantage and used counter-attacks and put Spain out of the competition (World Cup). 
"So most of the teams who play against teams who keep a lot of possession, they have to play together when they have to start a fast counter-attack. So normally the teams are trying to do that against us. That's the kind of things teams like to do against teams like us, Goa or Jamshedpur who have the ball with them all the time," he signed out.