Indian Super League
ISL 2017: Steve Coppell rues penalty miss and Jamshedpur pitch after second home loss of the campaign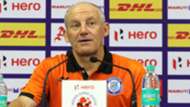 Steve Coppell's Jamshedpur FC were handed only their second defeat of their maiden campaign in the Indian Super League. The 1-0 loss to Chennaiyin FC on Thursday means that both the losses for Coppell have now come at their home ground.
The home side were awarded a penalty after going behind to one but striker Kevin Belfort's effort was saved by Chennaiyin custodian Karanjit Singh.
Coppell attributed the loss to the missed spot-kick and once again took a potshot at the playing conditions on offer at the JRD Tata Sports Complex despite saying that the pitch was fine on Wednesday.
"We missed a penalty. In the second half, we tried hard. I don't want to make an excuse but the pitch was bad, it was difficult for the players. The ball was bouncing unevenly," the Englishman rued.
The former Kerala Blasters tactician admitted that his side has not been their best at their home ground and spoke about the need for improvement.
"We are getting results away from home but at home there are problems. We need to execute better and try to score goals," he said.
Midfielder Mehtab Hossain was taken off by the former Crystal Palace and Reading boss as Jamshedpur hunted for an equalizer in the second half and the tactician explained that the change was tactical.
"Mehtab wasn't 100 percent fit. He also conceded a yellow card. I didn't want to risk him. I tried to bring in some changes in the second half with some fresh pair of legs but clearly (it) didn't work," Coppell concluded.