Indian Super League
ISL 2017 - FC Goa's Sergio Lobera very happy with three points against Bengaluru FC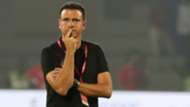 FC Goa pulled off a 4-3 rollecoaster win over Bengaluru FC in their third Indian Super League (ISL) game at the Fatorda stadium, Goa on Thrusday. Following the victory, head coach Sergio Lobera was overjoyed with the result but pointed out that there were areas that his side could improve on. 
"I'm very happy with the three points, especially against Bengaluru FC who I said previously are very strong. These three points are just part of the journey. We need to improve a lot with what we're doing, particularly because we allowed a team with 10 men to come back from a two-goal deficit."
Goa's leaky defence was called in to question once again as they allowed the opposition to claw their way back into the game. 
"This happened to us in Chennai as well when we had a little bit of day light in the score. Similarly, we allowed Bengaluru to come back in the game. I won't put the whole blame on the defence as the entire team has to deal with it. This is something that we need to work on because letting teams back into the game is something we cannot afford more often," he said.
The coach lauded hat-trick hero, Coro's (Ferran Corominas) performance but credited his whole team for their win against Bengaluru. 
"We all know that Coro is a good player. He gave you a good example of what a fine goalscorer he is. I don't like to talk about individuals. Even when we lose, I don't highlight personal mistakes. So while I say that Coro is a great player, I'm not going to say that he was particularly the one who did the job. We win and lose as a team. The credit goes to the entire team."
Goa's Spanish midfielder Edu Bedia too was happy with the side's performance but knew that there were some areas they could improve upon going forward.
"I think we gave it all in the first half. We scored a few goals. So now we have to learn from what we did well and also recognise our mistakes to ensure that they don't repeat again," he said .