Indian Super League
ISL 2017-18: Sergio Lobera - Never complained about FC Goa's budget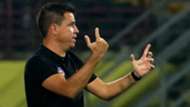 FC Goa are six points adrift of the playoff spots in the 2017-18 Indian Super League (ISL). But, with two games in hand over all the five teams above them on the table, the Virat Kohli co-owned side stand a good chance of going through to the semifinals. 
"I think we have to live in reality and the reality is that we have a match tomorrow which is the first of four finals and we have to get all three points and this has to be our motivation. If we get the three points tomorrow then our future is still in our control. And once again I repeat, more than pressure, we need to look at this with excitement because I think we can achieve something big this year," said head coach Sergio Lobera ahead of their home game against bottom-placed side Delhi Dynamos.

The last time these sides met, Goa won by a landslide margin of 5-1 in Delhi. Lobera though did not want to take the opposition for granted this time around.
"What has happened in past encounters is of no consequence now. If we have to think about that game we have to analyse it to explain that the result did not truly reflect how challenging it was out there on the pitch. The opposition ended with ten men and after that, we managed to score pretty quickly.

"The scoreline ended significantly in our favour. But if you look at the game up until that point, it was very evenly matched. We're playing against a team that plays good football and deserve more points than they've got and the match tomorrow will be a competitive one," he observed.

Lobera will miss the services of playmaker Manuel Lanzarote through suspension but believes that other members of his squad would step up in the Spaniard's absence. "Unfortunately, when a team loses a player due to suspension, there isn't much one can do. We have a squad of players that are capable of coming in and having the quality to replace someone in this situation.

"With regard to setpieces, he is our designated set-piece specialist and the only reason you haven't seen anyone else is that he has started every game. But tomorrow (Wednesday), I believe there will be an opportunity for everyone to see that we have several other players who are very capable of taking over set-piece duties," said the former FC Barcelona 'C' coach.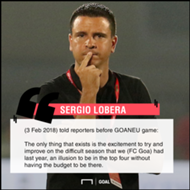 The 41-year-old ended the press conference by clarifying the earlier comments he made about the budget constraints he has had to deal with. 
Before his team's game against NorthEast United earlier this month, Lobera had mentioned that he was operating under financial constraints.
"Pressure doesn't exist for us at the moment," he said in the pre-match press conference. "The only thing that exists is the excitement to try and improve on the difficult season that we (FC Goa) had last year, an illusion to be in the top four without having the budget to be there. So the pressure is for the others. Thanks to how it is, it only depends on us if we are in the top four or not."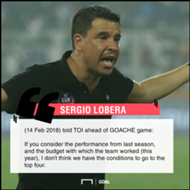 A similar exclusive quote from the Spanish national was printed on the 14 February edition of national English daily The Times of India. 
He was quoted saying, "If you consider the performance from last season, and the budget with which the team worked (this year), I don't think we have the conditions to go to the top four. But as a coach, I have aimed and worked towards a semifinal place. I don't think failure to qualify will be disastrous but it will be unjust for the way we have played this season."
On Tuesday, Lobera went on to defend himself by clarifying his quotes.
"In saying that other clubs have a bigger budget than us doesn't mean that I'm going against my club, my owners and my team.

"I have never complained about the budget within my team. Never. Because from the very first day the club has been sincere and clear with me. When I signed here, I knew what the budget was going to be and I signed taking that challenge on. I cannot ask for an additional budget from anywhere else. A lack of budget is not an excuse for us not fighting higher up the table.

"I would never make the excuse because if I didn't believe we could challenge for the title on this budget, I wouldn't have taken it on this project. For example, if Diego Simeone says that Barcelona and Real Madrid have a bigger budget than him, it doesn't mean he's attacking his bosses, nor is it for a lack of respect for his players, its none of that.

"All he says is its still a great challenge to win a league, where teams have a larger budget, even if you're doing everything well. This is what I mean. I've signed with Goa and I have no problems at all with the budget of the club. I believe in the bosses of this club, my players and this project. And in football money is not everything. I just wanted to clarify this," he signed off.