Indian Super League
ISL 2017-18: Mumbai City FC's Alexandre Guimaraes - I don't understand how the goal was allowed to stand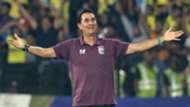 Mumbai City FC suffered their second home defeat of the Indian Super League (ISL) season as they went down 1-0 to Kerala Blasters.
Iain Hume scored the winner in the first half after Courage Pekuson took a quick free-kick in the 23rd minute. Not only did Pekuson take the free-kick from an advanced position, the ball was moving and Hume was in an offside position, something which the referee and linesman failed to take notice of.
Coach Alexandre Guimaraes was perplexed over the referee's decision but chose not to make any controversial statement.
"We tried to get over the first goal, which I still don't understand why it was allowed when the ball was five metres away. We tried to recover which wasn't easy. We tried to impose our game and during the whole match, we suffered yet we tried to draw via different ways. Now we can only think of next game versus Bengaluru. Everyone has a chance.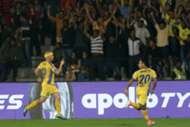 "Each team tried to play their game. They got the situation which I spoke of (the goal). In the second half they made a substitution trying to have a different approach with C.K.Vineeth upfront. But we handled it well and took risks to try to draw. We knocked the door but we couldn't walk in," said coach Alexandre Guimaraes.
"It's difficult to understand how the ball was played five metres ahead. Nothing was stopped," he added.
Guimaraes mentioned that although his team tried every possible move to get the equalizing goal, it was just not to be against Kerala Blasters.
"I saw the whole effort of the team to get over the goal (we conceded). We put new players and they did well. Unfortunately, this happened and we can only look further now. 
"Now our games are very important. Just because of what happened, we didn't get a point. We have a clash with Bengaluru FC who too lost. We can't say anything (on making the pplay-offs) until the last game," he concluded.