Indian Super League
ISL 2018-19: FC Goa's Ferran Corominas plays down impact of Manuel Lanzarote's departure
FC Goa striker Ferran Corominas has played down the impact of Manuel Lanzarote's departure on the team ahead of the fifth edition of Indian Super League (ISL).
Last season's Golden Boot winner Coro had developed a splendid chemistry on the field with the now ATK midfielder. Lanzarote went on to notch 13 goals and six assists to his name but left the club to join Kolkata-based ATK ahead of the fifth season.
Although the midfielder was essential to FC Goa's attacking football, Coro believes the team continue to produce goals this season as well. 
"Goals come from multiple sources. It does not have to be just one pair who does the scoring. The greatest strength of the team lies that it is a team and we are not relying on individual players. So once the team gels and more players understand each other in the attacking front goals will come from multiple sources," the Spanish forward said. 
The Gaurs played attacking football under head coach Sergio Lobera. They led the charts for most goals scored, shots taken and passes attempted. The Spaniard credited the coach's style of play for the chances created and goals scored by the team last season. 
Lobera's team lost out to Chennaiyin in the semi-final last season but Coro believes there is no extra pressure on the team to win the title.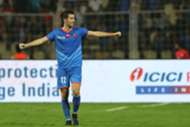 "The style of football we played last year helped us to create a lot of chances and goals. The technical quality of the individual players that we had with us also contributed to the team. They were able to make that pass where you exactly want it to be.
"But the style of play was key as technical quality can get you one assist here and therei but if you are not playing in a particular system you will not be able to do that constantly."
He added, " It is true that when the teams know your style of play it gets a lot more difficult because they will be well prepared for a certain style of play. But we will continue with it because I don't think we have a team which is built to play any other style of football. So we have to ensure that what we do and how we do remains perfect."
"There's no extra pressure for me and neither on the team. Our aim is to use our performance last season as a motivation to again get into the top four and make it to the final and perhaps possibly win the title.
"For us, we treat this as a positive and move forward and play. There's a lot more pressure on teams who have spent a lot more money than us and on teams who have already won the titles as there is an expectation (to fulfill). For us, it is about doing things well and doing them right."
Corominas also opined that the increased involvement of Spanish players in ISL has brought in more viewers from Spain. 
"It is true that there were a lot of Brazilians in the first few seasons but the few Spaniards that were here had good experiences here and the word spread. The league and the country have valued the Spanish players as well so that has also helped. It is more like a cycle now and it has become a case of supply and demand."