Indian Super League
ISL 2017-18: Alexandre Guimaraes - Mumbai City FC still have 12 points to play for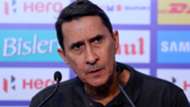 Mumbai City FC are to play a must-win game against ATK to stay alive in the race to reach the Indian Super League (ISL) play-offs.

Head coach Alexandre Guimaraes was nothing but optimistic about the challenge that lies ahead.

"We still have 12 points to play for. If we win the four games that we have, we can still have a possibility. Now we have to think about giving our best and not make mistakes. We cannot even afford to draw. Our chances are still there. Mathematically, we are still in it and we will try to go all the way. Tomorrow's (Sunday) game is very important. The entire team is very hopeful," said the Costa Rican on the eve of the game.

The Islanders, who have 17 points from 14 games, are eight points adrift of fourth-placed Jamshedpur FC.

"When you are playing against a team that has no chance (to qualify), it can be a little difficult because they have nothing to lose," the 58-year-old remained cautious of potential party poopers ATK.

Having won only one game in their last five, Mumbai City FC are not in the best of forms either. 

"We have played well. But unfortunately, the mistakes we made are punishing us. I'm proud of my players. We did very very good games. Sometimes, football doesn't reward your good play," he expressed.

Guimaraes also informed that Lucian Goian and Marcio Rozario are doubtful to take part in the game. "​It has been like this from the first game. For one reason or the other, I have not got all eight foreigners to choose from. I will only get to know who is available after talking to the medical team after lunch tomorrow," he mentioned.