India
FIFA Rankings: India gain two spots to be placed 105th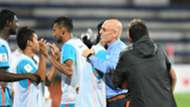 The Indian national has moved up by two places to be ranked 105th in the latest FIFA Rankings published on Monday, October 16.
Since the last ranking of 107 in September 2017, Stephen Constantine's side have played once wherein they garnered a convincing result.
The Blue Tigers defeated Macau (now ranked 180) 4-1 as a result of which they gained direct qualification for the 2019 AFC Asian Cup that is to be held in the United Arab Emirates (UAE).
India now have 328 rating points, a rise of 12 points from the previous month's tally. Also playing a factor is the fact that Georgia (down four places) lost both their World Cup qualification matches that amount to the current ranking.
However, among the Asian Football Confederations (AFC) nations, India have dropped down by a spot to be ranked 14th on account of Lebanon's (100) huge leap by 15 spots. Hosts of the 2022 World Cup, Qatar (97) have meanwhile dropped 12 spots and are 12th among the Asian countries.
Globally, Germany continue to top the charts and the top six places remain unchanged. France (7) and Spain (8) have moved up by one and two places respectively.
Turkmenistan (114) are the best movers in this edition of the rankings, gaining 22 spots. Guinea have taken the worst hit, by 25 places, to be now ranked 60th in the world.