Super League
'I'm not here to disrupt the team' - Amri on his return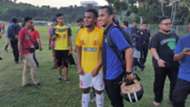 ---
BY        ZULHILMI ZAINAL       Follow on Twitter
---
Amri Yahyah did not take long to take to the pitch in the red and yellow of Selangor, after the Red Giants announced his return on Wednesday afternoon, joining them from Melaka United.
A few hours after the announcement, the veteran Malaysia forward played in Selangor's friendly against MISC-MIFA in Nilai, in which he provided the assist to Forkey Doe's equaliser, in the match that ended in a 1-1 draw.
A sizeable number of Selangor fans thronged the Malaysian Islamic Science University pitch, looking to welcome the return of the Red Giants' 'golden boy', along with the press.
The 36-year old forward told the press that his move back to his boyhood club, which he left at the end of the 2013 season to join JDT, was initiated by Selangor and his former club Melaka.
"The move was initiated by both clubs and the president (Selangor president Datuk Seri Subahan Kamal).
"He was very eager to bring me back, and he did everything in his power," he said.
And now that he is back as a veteran player, the Malaysia captain is looking to play his role at the club, but he is also aware of the changes that have taken place, and was quick to explain that he wants to avoid disrupting the current team dynamics.
"God willing, with the help of my teammates, I will help the younger teammates to improve.
"I want to avoid disrupting the team, and I hope they will be even more motivated in the coming matches," explained Amri.
He was also asked about his plans forthe remainder of his career, to which he answered that he has not thought carefully about it.
"That all depends on my own performance. I can't tell for myself honestly, when the end is going to come.
"Only time will tell," he answered enigmatically.
Another question that he had no answer to was whether there is any gentleman's agreement between his former clubs and Selangor, which will render him ineligible to play for Selangor against JDT or Melaka.
His transfer agreement to the Mousedeers from the Southern Tigers at the start of the season, had prohibited him from featuring for Melaka in their two Super League matches against JDT.
Strangely enough, Amri was not sure of the details of the agreement for his transfer from Melaka to Selangor, and he freely admitted that the details are sometimes beyond his understanding.
"I am not entirely sure about that, I haven't gone through it.
"Plus these matters can sometimes be a sensitive issue, and even I find it hard to understand them," he answered honestly, which caused the gathered reporters and fans to burst into laughter.