African All Stars
I'm highly disappointed in my players, claims Diary Farm's Idowu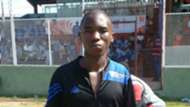 Dairy Farm Senior Secondary School assistant coach, Taiwo Idowu is disappointed with his wards' performance in their quarter-final clash against Odogunyan Senior Secondary School at Onikan Stadium on Wednesday.
The defending champions conceded a goal in each half of the game to crash out of the tournament, and the handler claims they didn't lose to a better side, but a luckier team.
He further stated that if his boys had played to instructions, they would have made it through to the next round of the competition.
"I didn't lose to a better side but to a luckier side as far as this game is concerned," Idowu told Goal.
"Though, they had a much stronger, good and organized in the defence line and ready to go, not that they were better than my team as I said earlier, but they happened to be lucky today.
"We prepared excellently well, only that the goals conceded two cheap goals, the first being a penalty and the second one a mistake from the players, again, we didn't lose because they were better than us, but luckier and if we meet next time, the result won't be the same as today.
"I'm highly disappointed, because the boys didn't play to instruction. We had a tactical plan, but this is a game – you win some and lose some. The most painful thing is that we were planning to win the title for the second time on a row.
"We won the cup last year, and this year we wanted to win a again and make history with GTBank since no one has done it before, unfortunately, it is a game, we take it as it come, just that it is very painful to crash out at this stage of the tournament."