Antonio Conte
'If you want to win you have to score' - Conte bemoans Chelsea's finishing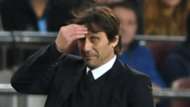 Antonio Conte believes poor finishing has undermined Chelsea's season and their ambitions to both qualify for the Champions League and win major honours.
Chelsea beat Swansea City 1-0 on Saturday thanks to Cesc Fabregas's goal, but wasted the chance to score more after having nine shots from inside the home side's penalty area.
Eden Hazard's 12 goals make him Chelsea's top goalscorer in the Premier League, while his 16 goals in all competitions ranks as the highest at the club this season.
After a limp title defence, and likely failure to finish in the top four, Conte pinpointed Chelsea's inability to finish teams off as their number one problem this season.
"No, I think that football is very simple, if you want to win you have to score," Conte said at the Liberty Stadium.
"I think in this season our main problem is that we are not so clinical, also today, we had the chances to kill the game. You have to take them otherwise the result stays in the balance until the end.
"I think then there are, for sure, other situations that we have to improve, but (against Swansea) I think we had good balance with the three midfielders. We were very dangerous offensively with Hazard, Giroud and the penetration from midfield. In fact, Fabregas scored from midfield. I repeat, it is very important for us to try and do our best until the end.
"The situation is not in our hands about our place in the Champions League, but if we want to keep the pressure on and keep the hope alive, then we have to try to get three points in every game. In the next game we will play against Liverpool.
"As you know very well, if you want to win, you have to score. In this season I think we dropped many points. I remember, for example, in the last game against West Ham, we dropped two points that were of vital importance for us. We dominated the game and created I don't know how many chances to score and we kept the result at only 1-0. In the end, they scored and drew and bye-bye.
"For sure, the only is way to put a little bit of pressure on the teams that stay ahead of us to win because, if we hadn't got three points then I think that the situation for the Champions League would end."
Chelsea have scored 60 league goals this season, fewer than any of their top-six rivals and it is more than 40 fewer than champions Manchester City, who broke through the 100-goal barrier against West Ham on Sunday.
Diego Costa was Chelsea's top goalscorer last season but he was sold to Atletico Madrid and replaced by Alvaro Morata, who arrived from Real Madrid.
Morata has been benched in his last two games and he was also the first player substituted in the two matches before that as his form remains patchy. Meanwhile, Olivier Giroud is getting more game time and Conte was asked about how he sees the January signing's partnership with Hazard after they started against Swansea.
"I think that they played a really good game," he added. "They showed a good link between them. I am very pleased for their performance. Not only of those two players but for the team. It wasn't easy to get three points against Swansea because I think they are in a good run of form, especially at home.
"In the last five games, they won four games and they drew only one game. We must be happy also because we kept a clean sheet for the second time in a row. These are positive things but we have to try to continue until the end to try to do our best and then at the end of the season what will happen, will happen."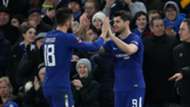 Chelsea have a game in hand over Liverpool and face the Champions League semi-finalists at Stamford Bridge next weekend in their next match.
Two wins in those games would leave Chelsea level on points with Jurgen Klopp's side, but an inferior goal difference would likely see them still below their rivals.
Liverpool have a dual focus on both the league and their Champions League semi-final second leg with Roma, but Conte refused to be drawn on whether it would be better for the Reds to win or lose their huge match at the Stadio Olimpico.
"I think that for me it is very difficult to say something about this game because I am an Italian," he concluded.
"I know that if I say something wrong then I am in trouble. I think that I will watch the game at my home and I hope to see a good game with the best team to go through and play in the final of the Champions League."