South Africa
If it means breaking their own legs, Bafana Bafana have to do that, says Phil Masinga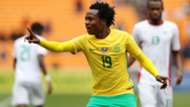 When it comes to scoring important goals in a Bafana Bafana jersey, there is none more so important than Phil Masinga's strike in 1997 which sent South Africa to their maiden Fifa World Cup.
Now fast forward 20-years and once again Bafana find themselves looking for someone to take the bull by the horns and lead them to the promise land as they look to overcome a start-studded Senegal home and away, and book their place amongst football's elite in Russia.
Nonetheless, the hero on that monumental day at the FNB Stadium believes that this time around the national team may just have another hero in the making if Mamelodi Sundowns forward Percy Tau comes to the party.
The 23-year-old has become an integral figure at Chloorkop over recent times, most recently being nominated by Caf for the African Footballer of the Year award, and the Bafana legend believes he has a big role to play against the Lions of Teranga.
"If Tau wants to make a name for himself, this is the time. He is a player with great potential. For me, he is going to be vital for us upfront," Masinga told The Star.
"I'm in support of Bafana Bafana. I know that on their day they can deliver and I hope they do. I believe we can beat Senegal in both matches. They have to go out there and know that millions of South Africans are behind them," Masinga said.
Furthermore, the former Leeds United striker has called on the national team players to show character, fight and to leave everything on the field.
"We want to show character and a good attitude. They have to think positive. If it means breaking their own legs, they have to do that. We don't need to play good football in these matches but we need to show character and good mental attitude," he added.
"We didn't play pretty against Congo. We scored early and they came back strong but we kept them at bay. I remember there was a ball that the late Sizwe Motaung saved on the line. It is important though to take the game to them as we did in 1997.
"They (Senegal) have good players who are playing in Europe but I believe we also have quality to match their talent," Masinga concluded.