I-League clubs lambast AIFF over Super Cup format and schedule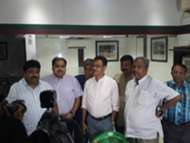 The All India Football Federation (AIFF) finally shared some insights on the much anticipated Super Cup on Monday, after the League Committee members convened at the Football House in Dwarka, Delhi. It was decided that the the qualifiers for the Super Cup are to be played between March 12, 2018 and March 31, 2018 while the final round will be held between March 31, 2018 to April 22, 2018 at either Cuttack or Kochi. 
After the preliminary blueprint of the much anticipated tournament was declared by the apex governing body, Goal contacted the club officials of some of the top I-League clubs to get their first reactions on the proposed Super Cup. Ranjit Bajaj, owner of Minerva Punjab; Debashish Dutta, financial secretary of Mohun Bagan; and Debabrata Sarkar, senior official of East Bengal launched a scathing attack on the AIFF over the format, scheduling and overall management of the Super Cup.
"The Super Cup has now become a laughing stock for us. We were previously told that it will be held in a round robin format. Now we find that it has become a one match tournament," said Debashish Dutta of Mohun Bagan.
Debabrata Sarkar, who remains the de-facto head of East Bengal, closely echoed the thoughts of Dutta.
"It is not a Super Cup. It has now become a 'Laughing Stock' cup. If they continue to operate like this Indian Football is in danger. When we were having discussions regarding ISL and I-League with the AIFF, they promised us that the Super Cup will be held in league format with the teams divided into two groups. Then the top teams will progress to the knock-out stage. It has all come down to that one match and any team can have a bad day at office on that day. They could have done away with Super Cup instead of conducting it in this way," stated Sarkar.
Whereas, Ranjit Bajaj not only criticised the format of the tournament but even questioned the policy of AIFF which allows even the bottom-half clubs to take a shot at the elite tournament by winning the qualification rounds.
"It is very unfair that the tournament is not being held in the round robin format. Moreover only eight teams should have been allowed to participate. The top four teams from I-League and ISL. They are giving a chance to everyone to play in the Super Cup. So, then how it is a Super Cup? It has become a 'Everybody Cup'," suggested Bajaj.
AIFF is yet to decide on the number of foreigners to be permitted and stated that a 'final decision will be taken after a final discussion with all stakeholders.' But Dutta believes that it is another loophole on the part of the administrating body as they have failed to come up with a decision with less than a month to go.
"How many foreigners will they allow? They haven't mentioned anything. They have already taken the opinion of the stakeholders. The meeting was convened only after taking into account all the opinions," says Dutta.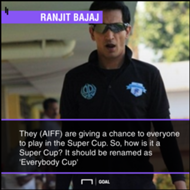 The Federation has also received flak for the scheduling of the tournament as the teams have to at least wait for a month before they get back in action and that too for an all important knock-out match, whose result would decide their fate in the tournament. 
"We are surely going to finish in the top six. Our last match is on March 6. So we have to wait for more than a month just to play one more match. This has no logic," adds Dutta.
Bajaj also feels that the scheduling could have been much better as he has to pay his players the salary for two more months just to play a single match. 
And it isn't just the I-League clubs. At least a couple of ISL clubs, who chose to remain anonymous, too have privately informed Goal that they will have to pay the wages of their foreign players until May 31st but a knockout tournament doesn't guarantee them enough game-time. Should they lose the first qualifier, they would end up paying the salaries for two more months.
Eyebrows have been raised regarding the choice of venue as well. Both Dutta and Sarkar agreed that in November they were conveyed that Super Cup will be hosted in Kolkata and are unhappy with the sudden change in venue. 
"Yes, they (AIFF) had promised that the Super Cup will be held in Kolkata. Now they have backed away from that promise as well. They had promised a whole lot of thiings but they are backing out now. We had asked that our representatives should be allowed to attend the meeting, but instead they just forwarded a letter asking for our suggestion. I have nothing more to say against this football federation who has made a mockery of themselves," said a vexed Sarkar.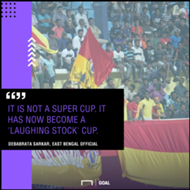 On the other hand Bajaj is apprehensive of the heat in either Kochi or Cuttack as he feels it willl be detrimental to the health and recovery of the players.
"I think Kochi is the worst place to play in April. If you had to play in Kochi then the tournament should have been scheduled in December or January. Even now we have to breaks in Coimbatore, when the temperature is 35 degrees. In April it will soar to around 40. Moreover, th Indian Premier League (IPL) will be going on at that time and so they will schedule our matches in afternoon. It will be very difficult for players to recover after playing in that heat," said Bajaj.
Bajaj and Dutta were on the same page when questioned about whether they are going to send their concerns to the AIFF regarding the Super Cup.
"They are not going to listen to anyone. They have not asked our suggestions. It doesn't matter to them. They only care about the broadcasters and what will suit them," said Bajaj.
Similarly, Dutta feels that "writing letters to them (AIFF) is a waste of time."
When Goal contacted a highly placed official in the Federation, he seemed to brush away the concerns of the clubs and insisted on the hot and humid tropical climate of the overall sub-continent.
"Well, the matches will be under lights. In April, if you play in Kochi, Cuttack, Goa or Delhi everywhere it is the same weather, except for the hills. All the matches will be broadcasted on Star. The dates have been finalized after consulting with Star," he informed.
He refused to comment on the allegations of Mohun Bagan and East Bengal that the AIFF is backing out on their promises of conducting Super Cup in a round robin format and instead drew analogy of the FA Cup, a knock-out tournament organised by the English Football Association.
"It seems that they are confident that they will be knocked out in the very first match. Right? Why are they then thinking about one match? How is the FA Cup played? Isn't all knock-out tournaments are usually played in this way?" questioned the official. 
The messy handling of the Super Cup so far hasn't helped the clubs one bit. Much better planning should have been in place given that the AFC calendar was out in June. It's time for these high profile meetings to come up with meaningful suggestions or conclusions as opposed to postponing the matter by asking for the 'stakeholders' opinion' and delaying the decision.