I-League
I-League 2017: Sanjoy Sen - Big players like Sony Norde miss penalties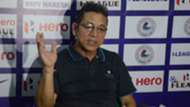 Missing a penalty is another thing but going a goal behind after that fills any football team with much agony. But, Mohun Bagan rectified both to come from behind and record a 1-2 victory away from home at Chennai City on Saturday evening.

READ THE FULL MATCH REPORT:  Chennai City 1-2 Mohun Bagan
"I had already told that it will be a hard match for us and that is what happened. Things could have been easy if Sony (Norde) scored from the penalty. But, we showed a lot of character even after a goal down", expressed head coach Sanjoy Sen after his side maintained their cent percent win record.
Hosts Chennai City did well to put a challenge against the Kolkata giants and the former United SC coach was impressed, also citing European examples - as he normally does.
"How did Real Madrid lose to some unknown team (Celta de Vigo)? This is football. Chennai played really well and they have also come to play. It's not about Bengaluru, East Bengal or Mohun Bagan winning all the time. Every team will get better from here on."
Commenting on individual performances, Sen encouraged new recruit, Eduardo Ferreira to get better with time. "There is nothing to worry. He will learn from the mistakes. We have time to gel as a team and he is definitely going to improve."
"I told him at half-time that forget about the penalty. All big players miss penalties. I tried to take off some pressure off of him and he got the goal. That should give him a lot of confidence", Sen commented on star player Sony Norde.
However, his utmost praise was reserved for young defender Bikramjit Singh Jr, who got his first start of the season in lieu of a last minute injury to Anas Edathodika. "He was outstanding. For me, he is the man of the match."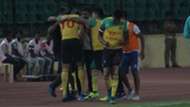 For Chennai City FC head coach Robin Charles Raja, it was a case of lost opportunity for giant-killing.
"We wanted a maiden win but missed narrowly. The three points, we should have taken initially. We should have got at least a point. Charles should have converted that in the second half", a distraught-looking Raja opined.
"I am happy we are getting better. Except for the last match at Shivajians, we are improving. Mohun Bagan pressed us hard in the first fifteen minutes then we also did well to close our defences and Karanjit also played well", he said taking out the positives.
He also admitted that this was their best performance ever. "Every match they give their best. Today was the best performance of the lot but not getting a point is still a concern."
The 50-year-old also praised the quality of the opposition they were up against. "It's difficult when you have players like Sony Norde dribbling down the flanks. Clement missed him and thus he was allowed to score", he concluded.