I-League
I-League 2017: Mumbai FC's Santosh Kashyap - Home and psychological advantage lies with us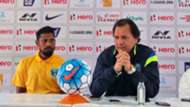 After putting an end to the six back-to-back losses with a draw against Mohun Bagan in the midweek, Mumbai FC now welcome Bengaluru FC on Saturday evening in round ten of India's top flight league. 
The last time the two sides met at Cooperage, the hosts got the better of Bengaluru FC in what was a memorable 2-0 win. Under Khalid Jamil, Mumbai FC have remained unbeaten against the JSW-owned side on home soil. 
Despite his team's poor run of form form this season, the former Salgaocar FC coach was confident of securing a top three finish.
''I am not concerned about the past six years about who was the coach and the players. My objective is to win the remaining nine matches of the season. We'll try to move ahead and achieve our target of top three and I am confident on that,'' he asserted.
I-League 2017: Churchill Brothers appoint Derrick Pereira as new head coach
Bengaluru are undergoing a trembling period having ailed to register a win in their last five fixtures. Commenting on their opponent's woeful run, Kashyap believes his side have an edge over the reigning champions going into the weekend's tie.
''We have home and psychological advantage with us. In this league table apart from Mohun Bagan and East Bengal, each and every team is struggling, and Bengaluru are going through a bad phase as well,'' he expressed.
Justin Bieber to perform at Mumbai's FIFA U17 World Cup Venue
Lastly, the 50-year-old boss mentioned that the side has no injury concerns from their last outing against the Mariners. However, dead ball specialist Steven Dias is expected to be sidelined for a long period.
''He (Steven Dias) is suffering from muscle injury and is expected to be out for three-to-four weeks,'' revealed Kashyap.