I-League
I-League 2017-18: Luis Norton de Matos 'disappointed' with Indian Arrows performance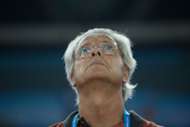 On Monday evening, Shillong Lajong got back to winning ways following a 1-0 victory over Indian Arrows. Abdoulaye Koffi's strike in the 80th minute propelled Lajong to fourth place on the table.
Lajong head coach Bobby Nongbet credited his team's determination for the result and said that they were focused on winning three points right from the outset.
"The result is the outcome of hard work and dedication. We can see that from our first result. Whenever we are competing for the ball, we are determined not to lose," he commented.
Despite bagging full points on home soil, Nongbet was dissatisfied with the margin of victory. "
We should have won by a lot of goals, maybe three to four goals. However, we got the winning goal and the team played really well together. We had a team performance today which was solid at the back," he remarked.
The coach had words of encouragement for Aiman Al-Hagri who put in a below-par performance against Arrows. ''Aiman (Al-Hagri) is putting efforts in training but hasn't been able to exhibit much on the field. I think he's giving his best but it does not show in the performance. He will come back stronger in the next match,'' he asserted.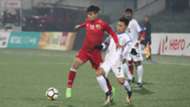 Nongbet signed off with updates on the fitness of the players on the injury list, "Johu Oh has recovered as he trained today and Laurence (Doe) hasn't; we shall wait until tomorrow (Tuesday) to see if he can join the training. Rakesh (Pradhan) had an injury today and I hope that's not bad."
On the other hand, Indian Arrows head coach was very disappointed with the display of his young guns. "We played very badly. The only player who played well was our goalkeeper (Prabhsukhan Gill). The performance was very poor," expressed Luis Norton De Matos.
The Portuguese manager reserved praise for Prabhsukhan Gill who pulled off sensational saves and also stated that the 16-year-old was not responsible for conceding the 80th-minute goal.
"The team needs to protect well. I would have liked to draw the match, at least. Prabhsukhan Gill, what he did today at the age of 16, was top class. The goal we conceded wasn't his fault, it was because of our very bad defence. We were never organized on transitions. I am disappointed with the way we played," he concluded.