I-League
I-League 2017-18: Bino George - Only East Bengal & Mohun Bagan have more spending power than Gokulam Kerala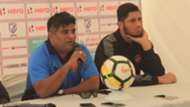 Bino George, the Head coach of Gokulam Kerala FC, who are playing their first ever season in the I-League, feels that the Kozhikode-based club are trying hard to bring in quality foreign players. He refuted suggestions that financial difficulties might be the reason for the club bringing in sub-standard players at the beginning of the season. 
The Keralite had earlier revealed that he was disappointed with the club's foreign signings, with the club later on letting go of two of their recruits - striker Leo Mbele and Syrian playmaker Khaled Alsaleh. 
Speaking to the media ahead of Gokulam Kerala's I-League encounter against Minerva Punjab on Saturday, Bino George said, "I think after Mohun Bagan and East Bengal, Gokulam (Kerala) has the most spending power.
"So we want to get good foreigners in. Our defenders, Emmanuel (Chigozie) and Daniel (Addo), have been playing well. We want good foreign players up front. We are trying to get three players from Brazil, Egypt and Bahrain now." 
Bino George also revealed that former Bagan striker Odafa Okolie, who they had signed two days ago, will play a part in the match if his paperwork is approved.  
"Odafa's paperwork is pending. If it is done, he will play. Hopefully, we will get it done by today evening," said Bino. "Odafa didn't run much even during his earlier days. He scores goals though. He scored nine goals in the second division last season and our options are limited too. So we went for him." 
The coach went on to state that the club has managed to rope in former Salgaocar FC defender Balwinder Singh and highlighted the struggles his team faced while recruiting quality Indian players.
"We have signed a new Punjabi defender Balwinder Singh - former Salgaocar player. When we were trying to sign good Indian players, the question they asked us was whether we are in the I-League.
"At that point in time, we were not included. By the time we got entry, all the quality players were gone. So, we tried to promote players from the state like Arjun, Irshad etc.  
"We have had ball possession in our matches and we have played well but our finishing has let us down. For the other teams, foreigners are scoring goals. We don't have that. That is our problem. Ours is a new team. It will take time for us to settle down as a unit. The same applies for Indian players," he concluded. 
Bino George's opposite number, Khogen Singh, painted a confident picture ahead of the game and evoked memories of his time as a player during which he played at the EMS Corporation stadium, the venue for Saturday's game.
"It is an away game and the experience of an away game is different. We don't want to lose games because right now we are second in the table. The whole team is fit. Most of our players are young guys. We trust in how we work.
"This ground is good. In my playing career, I played here in 1994 with Salgaocar against Titanium in the Scissors Cup."