A-League
How Sydney FC triumphed in the A-League grand final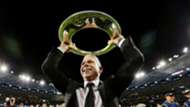 The A-League championship was reclaimed by Sydney FC on Sunday after Reza Ghoochannejhad slammed home the winning penalty in a shootout following a 0-0 draw against Perth Glory.
The game started off lively, with the first half involving several chances, as well as a goal for Sydney FC that was dubiously ruled out by VAR as offside. The next 75 minutes was a tactical stalemate with both teams looking more afraid of conceding than taking the lead.
Both manager's tactics largely cancelled each other out and with few changes to throw a spanner in the works, the game going scoreless was unsurprising.
In the end, Steve Corica continued the reign which begun with Graham Arnold, while Tony Popovic's search for a first A-League championship was extended with his fourth loss in a grand final.
Here are three tactical observations from the A-League grand final…
Sydney FC patiently press Perth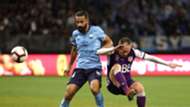 Steve Corica sent his team out with clear instructions to press Perth Glory high and not give them time on the ball to build out from the back.
In the opening minutes, retiring Alex Brosque gave Perth keeper Liam Reddy an early scare as he closed the goalkeeper down but failed to keep the ball in play after initially winning it.
This strategy paid dividends last week as they forced mistakes out of Melbourne Victory when they caught defenders sleeping and stole the ball from the feet.
Sydney were not clinical enough with their chances this time around, besides the cancelled goal, but they were just as tight defensively so that they did not concede any quality chances against Perth.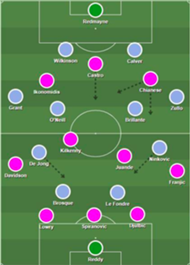 Understandably, the Sky Blues could not continue their high intensity strategy for the full 90 minutes and their energy dropped as did the tempo of the game.
Especially at extra-time, the tired legs really began to show as Sydney players, as well as Glory, struggled to run up and down the pitch.
Unlike previous games, Rhyan Grant and Michael Zullo did not storm up the flanks as they do usually, perhaps due to Corica being aware of the threat that their direct opponents, Jason Davidson and Ivan Franjic, provide.
Corica should be given immense credit for shutting down Perth's dominance that we've seen this season. Not only did Sydney stop them from building out from the back but also prevented Neil Kilkenny and Diego Castro in controlling games the way they have this year.
Penalty shootouts aren't a lottery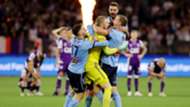 Often when a game goes to shootouts, you'll inevitably hear the cliché that these situations are a "lottery" and the winner is entirely based on luck.
Andrew Redmayne's excellent disruption strategies, the clear preparation of the Sydney FC staff and their own outstanding penalty taking is testament that it's not. 
Following the match, in an interview with Adam Peacock on Fox Sports, Corica confirmed that they were aware that Perth's own retiring man, Brendon Santalab, was likely to go for a Panenka penalty straight down the middle.
It wasn't gut instincts, or even fortune, that Redmayne stayed upright, it was pure preparation. The keeper didn't stop there as he enacted his 'Wiggles dance' which he's done for several penalties over the course of the season in an attempt to distract his opposing penalty taker, and he found great success, saving two of the three penalties.
On the other end, Sydney's penalties were taken with conviction and precision, showing the confidence and superior mentality that got them across the line.
Perth target the flanks without success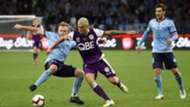 Given that Sydney are known to focus on attacking aggressively down the flanks, Tony Popovic wanted to pin the opposition full-backs and hopefully catch them too far forward on the counter.
However, since the Sky Blue's full-backs did not move forward as they have previously, Perth struggled to make many inroads from that strategy.
Chris Ikonomidis had a captivating skirmish throughout the match with Grant as he failed to successfully take him on. In saying that, Grant was cautioned for persistent fouling and was perhaps slightly lucky to still be on the pitch at the end of the game.
Popovic's decision to take advantage of the wings proved to be counteracted by Corica in what was the most interesting tactical battle of the game.
With Corica's small decision to retreat his defenders slightly giving his team the edge and helped them enroute to another championship.