Australia
How Bert van Marwijk won the Socceroos over with dinner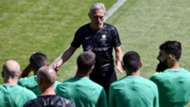 Socceroos defender Mark Milligan has revealed departed national team coach Bert van Marwijk would personally take the squad out for dinners in Russia as a way to keep them all 'sane'.
Van Marwijk, who has since been replaced by Graham Arnold, implemented an intensive training camp in Turkey prior to the World Cup with Milligan himself previously referring to it as borderline torture.
Despite the pain, it wasn't all stick and no carrot with the Dutch coach with Milligan full of praise for van Marwijk's balanced approach in camp.
"Under Bert we worked extremely hard…but he was really good at finding the balance of working hard and keeping us sane at the same time," Milligan told Goal. 
"There were a couple times he'd just come in the room and say 'Right, I'm taking everyone out for dinner'. 
"Just the change of scenery and things like that can freshen you up and get you through. I guess we knew when he took us out for dinner, we were going to pay for it later but you still enjoy it."
Having been part of the Socceroos set-up since 2006 under Guus Hiddink, Milligan has worked under his fair share of managers but was left thoroughly impressed by what both van Marwijk and Mark van Bommel brought to the table in Russia.
"Unbelievable, very, very good," he said. 
"Quite different to what we had with Ange the four years previously, but I think they were very specific in the way they wanted to do things and I think the way they were able to get the message across was wonderful. 
"Especially with the language barrier, considering English wasn't their first language. Sometimes that can make things very difficult. 
"I learnt a lot and that's what I love that about the game - no matter how old you are or how many tournaments you've played - someone can still come in and teach you so much on a daily basis."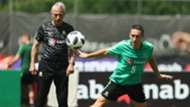 Despite the coaching and some promising performances from the Socceroos, Australia would fail to win a game in Russia.
While admittedly disappointed, Milligan was particularly pleased with how the side began the tournament against eventual World Cup winners France.
"In every World Cup previous we conceded in the first 24 minutes and I think that was very important to us that we started well," Milligan said.  
"I think the way we defended as a unit in that match was testament to what Bert was trying to instill into the team. 
"Obviously a little bit disappointing not to progress. I think with the team that we had, with Mark and Bert - they were amazing - I think it just shows in football it's those small moments that can make or break you, especially in a tournament set-up. 
"We played some good football, some entertaining football."
Milligan is still undecided whether he will play again for the Socceroos with his club future also still up in the air.