Lion City Sailors
Home United face an uphill task in Pyongyang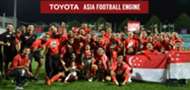 Home United put on a valiant display in last night's first leg of the AFC Cup inter-zonal semi-final against North Korean outfit 4.25 SC. Alas, it was just not meant to be as Home were defeated 2-0 at the Jalan Besar stadium.
The scoreline however did not reflect the true narrative of the match as it was a tight contest between two teams. The Protectors defended well and had goalkeeper Eko Pradana Putra to thank for making crucial saves against Om Chol Song and Rim Chol Min.
After defeating the best teams of Southeast Asia, Home would have to confront the best of Asia and many fans and pundits alike got the feeling that it would prove a step too high for the Singaporean side to scale. In the second half of the game, that was the case with the Koreans scoring twice.
Home were rattled and were unable to find a reply as 4.25 SC's backline was marshalled well and star forward Song Ui-Young struggled, to find an opening. He and Shahril Ishak were outmuscled by their opponents' powerful defenders.
It grew even more frustrating for Aidil Sharin's men when the Koreans started to disrupt their rhythm by feigning injuries. The Jalan Besar crowd also played their part in venting their anger towards those unsightly tactics.
In his post-match press conference Aidil was candid in saying how his team had played a much superior side. He knows his team face an uphill task in Pyongyang and stand a slim chance of progressing through in the second leg.
Adding to his problems is the fact that his team has yet to receive confirmation on whether South-Korean forward Song will be able to travel to the hermit kingdom. But all hope is not lost and if there's one thing Home has done this season is prove its critics wrong. However for that to happen they will need to get it right against 4.25 SC on the 28th of August.