Transfers
Higuain moves closer to Milan as Bonucci prepares for Juve return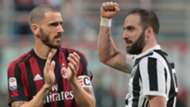 Juventus forward Gonzalo Higuain is ready to swap Turin for Milan, while Leonardo Bonucci prepares to say farewell to the Rossoneri after a single season in order to return to his former club.
Goal can confirm that the Argentine is the subject of talks between his brother and agent, Nicolas, and new Milan director of football Leonardo, who both arrived at Casa Milan on Monday evening. 
If Pipita consents to a move, he will arrive at San Siro on an initial loan deal as Cristiano Ronaldo's blockbuster arrival threatens to usher him out of the first team at the Old Lady. 
Milan will pay out €18 million (£16m/$21m) for a loan move, with an option to buy at the deal's conclusion for another €36m (£32m/$42m).
Juventus manager Massimiliano Allegri declined to respond to the Higauin talk at a news conference on Monday, insisting that he is not involved in the discussions.
"I am not in charge of the transfer market, that is up to the club," the Juve boss said ahead of their match against the MLS All-Stars on Wednesday.
"I don't even have a [senior] striker here, so let's see [about transfers] because we still have to return to Italy.
"When the market closes on the 17th [of August] the Juventus squad will be as competitive as ever. The club has worked very well and after this week of work we will go back.
"After that, we'll take stock of the window, which will be an excellent one regardless of what happens next."
While Allegri may be potentially losing a striker, he could be reunited with former Juve defender Bonucci, as Higuain may not be the only player moving to and fro between Milan and Turin this summer. 
Unsettled at San Siro, Bonucci is keen to cut his losses and seal a move back to the team he abandoned last summer. 
If the defender does move, Juve youngster Mattia Caldara could see himself travelling in the opposite direction in a bid to reduce transfer costs. 
Both centre-backs have been mutually valued at €40m, making a swap viable, although Juve would also have to bear the brunt of Bonucci's €5.5m a season salary demands. 
Chelsea, however, are also interested in 24-year-old Caldara, and could upset Milan's plans after representatives of the Blues and Juventus met in Nice last week; Higuain, meanwhile, was not on the Londoners' agenda.