Hazzuwan Halim
Late Balestier Khalsa show sees Hazzuwan Halim shine brightest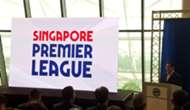 He had a torrid first half against Hougang United last night but Balestier Khalsa's midfield maestro Hazzuwan Halim was no doubt the chief architect of his team's 2-1 victory over the Cheetahs.
Tigers coach Marko Kraljević couldn't stop yelling at his midfielders, urging to them to play quick passes and to release the ball earlier. Fariz Faizal and Hazzuwan Halim bore the brunt of their coach's criticisms mainly as Balestier endured a poor first half at the Hougang Stadium.
By the time the second half had started coach Marko was in a better mood since his team had equalised. It must be said that whatever the Croat had uttered in the dressing room must've worked given how his midfield unit functioned.
In particular Balestier's number seven, who was a constant livewire. When in the mood he can be a devastating force to be reckoned with. His sharp passing and inter-play with his teammates was simply sublime to watch.
The 24-year-old displayed vision too as his passes seem to leave Hougang in a daze. Balestier hadn't been playing well up until then but when Hazzuwan found his rhythm, the team started singing to a different tune. It was only fitting that he scored the winning goal to seal the three points for his team.
In his press-conference coach Marko did not mince his words when he said that his team did not perform up to the best standard. Elaborating further he pointed out how Hazzuwan whose form has been inconsistent and now starting to burst into life, was very crucial to his side's success tonight.
Moreover Balestier's burly coach added how the playmaker represents the type of football he wants to play, which is fast paced and always on the move. It must be said that after tonight, should he keep up this kind of performance, he definitely warrants a call-up from Fandi Ahmad into the national team. Fandi is a coach who loves attacking football while Hazzuwan loves to attack, it could definitely be a match made in heaven.