CAF Champions League
Gor Mahia officials in war of words ahead of crucial match on Sunday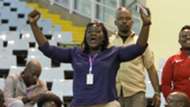 Gor Mahia Secretary General has no knowledge of all the names of K'Ogalo players, says club treasurer Sally Bollo.
Bollo took to social media to pour cold water on Ben Omondi in what is turning out to be an ugly war of words between the officials.
Bollo accused Omondi of adding little value to the club since his election to the office.
It is not clear why Bollo went out to attack the integrity of her fellow colleague, but from the tone of her conversation, the two seems to have fallen out beyond reconciliation.
"With all due respect Ben Omondi, can you tell fans here today which match you have organized as an elected Gor Mahia SG.
"Do you really even know how players make it to the stadium or even check on them after playing? Tell us, please…hata kama majina ya wachezaji ndio haujui...(you don't even know the names of players), so what can you tell us?" Bollo said in a scathing online post.
Bollo even offered free advice to Omondi to "look for former Secretary General, (George) Bwana for an induction course."
"How long will it take you to learn the duties of SG? Have you gone through our club constitution that states that Treasurer will be in charge of the home matches and gets support from OS? I challenge you to come back to me after getting your facts right."
But in a quick rejoinder, Omondi dared Bollo to face him in the ballot if she's interested in the post.
"You want the post of Secretary-General then declares your interest then we'll square it up on the ballot."