World Cup
Ghana U17 to play UAE, Mali in friendlies ahead of World Cup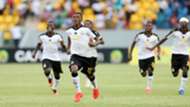 Ghana Football Association executive committee member Kweku Eyiah has revealed that the Black Starlets will play a couple of friendly games in Abu Dhabi to access the players' fitness ahead of the Fifa U17 World Cup holding in India next month.
Ghana have been paired with hosts India, Columbia and United States in Group A.
"For now, we're playing two friendly matches [here in Abu Dhabi]. One with Mali and the other with United Arab Emirates," Eyiah told the media.
"We need to play these friendly matches as part of the conditioning process of the boys and getting to their match fitness level and also accessing tactically," he said.
"We have been reliably informed that our group opponents United States and India will both pitch camp here but we don't know when they will be arriving. What I know is that Mali are scheduled to play USA on September 29," he added.
Eyiah also revealed that the final squad will be announced on September 21 and the players will be paid qualification bonus of $1,000 per stage.
"There are 25 players in camp now and eight technical team members but it will be whittled down to 21, three of them will be goalkeepers. The final squad will be named on September 21 [because] this is a Fifa requirement so we have no alternative.
"Unfortunately, any player who fails to make the squad will have to return to Ghana and it's unfortunate because these boys have given their best and expect to be named in the final squad but we can't have all of them in the squad.
"If the team is able to sail past the group stage, the players are entitled to qualification bonus of $1,000. It is the same amount at each stage and the president has promised them a special package if they win the trophy," he added.
Ghana are making their first appearance at the tournament in a decade since finishing fourth at the 2007 edition held in South Korea.