World Cup
Ghana FA denies allegations of bribing referees for WC qualification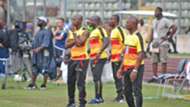 Ghana FA has rejected suggestions that the Black Stars failed to qualify to 2018 Fifa World Cup holding in Russia following the government's refusal to release funds for indemnity.
Reports were rife in the local media recently that some referees who officiated the Black Stars' games weren't happy how they were treated, which could have led to Ghana's poor campaign in the qualifiers.
Interestingly, executive committee member of GFA Wilfred Kwaku Osei also confirmed that lack of funds for indemnity played a huge role in the disappointments but Ghana FA media officer Ibrahim Saanie Daara has insisted they have never influenced a referee to manipulate results in their favour.
"We, as a football association, do not believe in inducement and we have never been involved in bribery. We have never done such a thing before in the qualifiers," Saanie told Citi FM.
"When a referee is appointed for a match, by default, you expect him to be fair. That is a given. If and when we do have issues with a referee, there are ways we can proceed.
"One of such means was the recent protest we filed against South African referee Daniel Bennett. CAF has modalities to deal with referees who do not perform well and we are satisfied with them," he added.
Ghana sit third in Group E of the qualifiers with six points, six behind group winners Egypt with a game to spare.