Western Sydney Wanderers
From Bayern to Brazil: Alexander Baumjohann out to bring glory back to Western Sydney Wanderers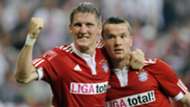 He may have only arrived in Australia a few weeks ago, but an ambitious Alexander Baumjohann is already fully focused on firing for Western Sydney Wanderers this season.
The attacking midfielder has quickly caught the eye in his first few appearances for the club and looking back at his career, there's little wonder why.
Making his Bundesliga debut as a teenager with Schalke before a move to Bayern Munich in 2009, Baumjohann isn't a man short on confidence, but not one to pride himself on past glory either.
"I always knew my quality and I didn't sign my first professional contract with Schalke at 16 for nothing, so I was always hoping to play a career like this and play for the biggest teams," Baumjohann told Goal.
"Everybody that plays football is dreaming about playing in the Bundesliga and I had the luck to be professional very early, when I was very young.
"Now I'm just looking forward - that was already a long time ago. That was a great time, I had a lot of fantastic moments in my career but I've got a new chapter of my career now in Australia."
After over a decade playing professionally in Germany, Baumjohann found himself briefly in Brazil - a move that would be more of a closing paragraph than chapter in itself.
Injury, among other things, making his South American adventure a detour of sorts.
"I left the Bundesliga last year after 13 years and I wanted to do something new," he said.
"I decided to go to Brazil because I thought it was really interesting and I speak Portuguese, I knew of the country so a lot of positive arguments, but things just didn't go how I expected or imagined."
On the lookout for something new, a phone call with a distinctly German voice on the other end would seal his decision to move to Western Sydney.
"I checked all the offers available to me and then Markus Babbel called me and we talked a lot about this opportunity and very quickly I decided to sign with the Wanderers because I think it's a young club already with a lot of history," he said.
"With a new stadium, training facilities and all this, the club is just growing very quick and it's a very good project.
"It was an easy decision to sign for the Wanderers."
While Babbel and Baumjohann crossed paths a number of times in Germany, the two never met but have very quickly formed a close relationship.
"A lot of times I played against him - me as a player and he has a coach but we didn't work together and I didn't know him personally, but from the first time we talked it was a very good feeling," Baumjohann said.
"So that made my decision even easier. It's not just because of him… I knew a lot of things about the Wanderers because I just love football and watch a lot of football.
"It really helps when you have a coach that knows you, gives you confidence and believes in you.
"This wasn't always the case in my career so I'm very thankful for all this and hopefully we will have a successful time."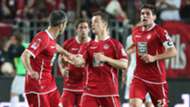 Though pre-season results have some concerned about the season ahead for the red and black, Baumjohann knows first-hand how little it means.
"Pre-season results for me don't mean anything," he said.
"I've played football for such a long time and had pre-seasons where we won everything and then played badly in the league.
"For me it means nothing. People just see the results, they don't know what's going on the whole week, the whole pre-season."
After beginning their season with a 1-1 draw against Perth Glory in Baumjohann's A-League debut, the Wanderers are out to turn recent history around in the Sydney derby on Saturday.
The 31-year-old is no stranger to derbies having played in one of the biggest for Schalke against Borussia Dortmund.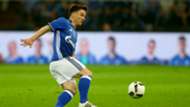 Having gotten a taste of the Sydney version in the FFA Cup semi-final, the German is ready to embrace the A-League version.
"To play a derby here in Sydney and in the A-League it is important," he said.
"For me these are the best games to play - I can't wait."  
Restricted to just 13 appearances during his year in Brazil, Baumjohann has set himself some modest aims for the season ahead but is aiming high when it comes to his new club.
"I just want to play on my best level and my highest goal for myself is to not get injured and stay fit," he said.
"I just try to help the team with my quality and hopefully we can bring back the good years.
"Hopefully next year the Wanderers can play Asian Champions League in the new stadium." 
Not one to live in the past, Baumjohann already has his sights set on a very bright future in Western Sydney and could be just the player to let the light in.