WTF
Frankfurt goalkeeper receives stupidest red card of the season!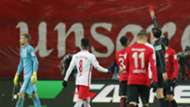 Even if you are unfamiliar with the rules of football you should know that goalkeepers can only handle the ball inside their own penalty area.
Rooney breaks Man Utd goal record
However, Eintracht Frankfurt goalkeeper Lukas Hradecky appeared to forget the cardinal rule on Saturday, and was subsequently sent off!
The stopper, having ventured outside his area, lost his footing and incredibly decided to catch the ball, leaving the official with no choice but to brandish a red card within the opening two minutes of the game.
Take a look at the video below, and marvel at the absurdity of Hradecky's split-second decision.
What was he thinking?! @eintracht_eng 'keeper sees red for a comedy handball after just two minutes. #Bundesliga https://t.co/VgfAvhoTpB

— BT Sport Football (@btsportfootball) January 21, 2017
Ahead of Saturday's game against Red Bull Leipzig, Eintracht sat sixth in the Bundesliga, with Leipzig second.