African All Stars
Francisca Ordega: Why I started coaching course in the US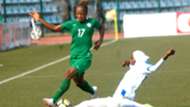 Francisca Ordega says she is harbouring dreams of handling the Super Falcons in the future after she commenced the process to become a certified coach in the US.
The 24-year-old is among the 21 National Women's Soccer League players taking part in the free Grade C Coaching License Coaching course organised by U.S. Soccer.
And despite still having plenty active years ahead of her, the Washington Spirit forward insists starting her 10-week long coaching programme was a perfect timing for her.
"Nothing special inspired me to go into coaching. It was just a thought and I decided to go for it," Ordega told Goal.
"For me starting a coaching training at the young age of 24 has nothing to do or determine what I want to become in the future. It's just a perfect timing for me.
"Long active football is not guaranteed. Anything can happen, so why should I not use the opportunity I have? For my dreams, maybe become the Super Falcons coach in the future.
"With my experience as a player and being played in different countries and different coaches I think is a good step for me. I cannot really tell how long I am going to play active soccer but whenever my body is weak I will hang the boot, then start another career.
"My role model is Arsene Wenger. I like him a lot. He is very professional and patient when it comes to decisions making. I love the fact that he let his players enjoy the round object and believe in the future of young players.
"We have just a few females coaches in Nigeria and I think it's not okay. We need to take the lead and need to restructure our women football in the country. So, we need more women coaches to enable us to achieve that dream, hence my interest too."