CAF Champions League
Former Gor Mahia coach facing fraud charges in Ghana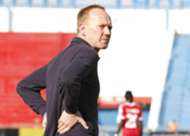 Former Gor Mahia coach Frank Nuttal  could face fraud charges for allegedly 'pocketing' Sh5 million in shoddy transfers in Ghana.
The Scott was suspended by Ghanaian side Hearts of Oak last week for 'unsporting and unethical behaviours' and he now faces a sack after reports emerged that he was involved in underground deals in the transfer market.
According to leaked information by the three-member committee set up by Hearts of Oak to investigate the matter, Nuttal is alleged to have pocketed US$ 56,000 (Sh5.6 million) in 'illegal transfer of some players'.
According to Graphic Sports publication, the committee's findings linked the coach to the Scottish firm NM Football Consultancy, as collaborators for the transfer of players of Hearts of Oak.
Hearts of Oak are now demanding that Nuttal refund the money or else he faces corruption and fraud charges.
Nuttal walked out of Gor Mahia in 2016 after he refused to take a pay cut to join Egyptian side, Zamalek as an assistant manager, where he served for exactly 54 days before he was shown the door.
The embattled Nuttal won the Kenyan Premier League title with Gor Mahia in 2015.