Super League
FMLLP unveils 'new era' Super League trophy, TMJ plans to replace FA Cup trophy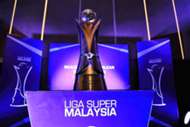 ---
BY        ZULHILMI ZAINAL       Follow on Twitter
---
M-League organiser Football Malaysia LLP (FMLLP) on Tuesday unveiled the new Malaysia Super League (MSL) trophy, in a press conference held in Johor Bahru.
The unveiling ceremony and press conference was attended by Malaysian FA (FAM) president and FMLLP chairman Tunku Ismail Sultan Ibrahim, FAM secretary-general Dato' Hamidin Amin, FMLLP CEO Kevin Ramalingam among others.
According to FMLLP's press release, the trophy is made of pure gold, silver and copper. The diameter at the base is 252mm, while it is 633mm tall and weighs 20kg.
FMLLP and FAM had been teasing the new trophy on their social media accounts since the week before.
In the press conference, Kevin stated that the trophy does not cost more than RM200,000 (USD 47,715), and that FMLLP has been planning to change the trophy since the organisation was formed in 2015. 
"The new trophy was designed to represent a new era in Malaysian football, especially the move towards privatisation.
"Thanks to Tunku Ismail's contributions, finally this year we succeeded in designing a new trophy after having planned for it since 2015.
"From the design stage, the whole trophy took eight months to be completed," said Kevin.
Tunku Ismail, who is also known to fans as TMJ, also revealed the plan to replace the FA Cup trophy, citing the need for it to reflect the new era in Malaysian football.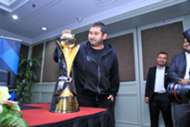 Tunku Ismail Sultan Ibrahim inspecting the new trophy. Photo from FMLLP
"The football ecosystem in the country needs to be improved on every aspect, and that includes the trophies of our competitions.
"That includes the FA Cup, but not the Malaysia Cup which we will not change as it has been around for a long time and we respect that.
"No offense intended, but the current trophies do not reflect the prestige of Malaysian football. We want all aspects of Malaysian football to be of quality," said Tunku Ismail.