Kenya A'
Florence Adhiambo: Honouring Kenya's greatest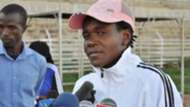 In Kenya's domestic game, which has been typically dominated by men, one woman has emerged to stand toe to toe with her male counterparts and take her place as a football coach. Florence Adhiambo gives the impression of being a laid-back lady, but her achievements as a football coach tell a different story.
Women's football has been neglected in Kenya over the years, but Adhiambo is one of the few footballers who have persevered and demonstrated a determination that things can get better with time. Last year, Adhiambo was the assistant coach with the Harambee Starlets team who performed exceptionally well in some of the tournaments they graced.
First, the Starlets beat Algeria to book a place at the women's Africa Cup of Nations that was held in Cameroon, and they also reached the final of the Cecafa women's tournament in Tanzania where they lost to the hosts. The team also performed well in an invitation tournament held in Spain, in a further demonstration of Adhiambo's budding qualities as a coach.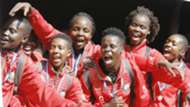 Harambee Starlets reached the final of Cecafa tournament
However, before her latest achievements, Adhiambo was just minutes away from becoming the first ever Kenyan coach to take a football team to the World Cup, having taken the national U-20 women's team to the brink of qualifying for the 2014 World Cup before they were halted by Tunisia.
Adhiambo was not ready to take up the coaching role then, but after a chat with her husband Habil Nanjero, also a former national women's coach, she took up the challenge and never looked back.  "Many thought it was a joke," Adhiambo revealed after the appointment, although few are laughing any more!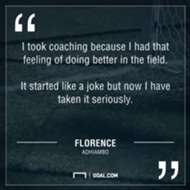 She says she has come a long way from being regarded as a nobody to being treated like a hero. By the time they fell to Tunisia, Kenya had already beaten Lesotho and Zambia on aggregate over two legs.
Adhiambo says it was a great adventure that has opened her eyes as a coach and set the stage for greater things to come.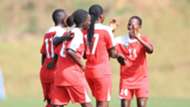 Harambee Starlets qualified for Women African Cup of Nations final
"I took coaching because I had that feeling of doing better in the field," she told journalists. "It started like a joke but now I have taken it seriously.
"I want to help Kenyan women football to hit great heights and with the current office, I strongly believe that we can achieve that because they like the game unlike those who were there before."
Adhiambo was lured into football by her brother as a youngster and has never looked back.
Football was always her dream career and she enjoys it. She says football helped her keep away from social vices, while Nanjero says he will never get in the way of his wife's coaching career. "I always help her when she needs assistance," her husband insisted.
Adhiambo believes women's football can take its rightful place in Kenya if the authorities make it a priority. "At least I am happy Kenya now has a women's football league, but I pray that one day the profile of the women's game rises to the same level as the men's league."