World Cup
FKF President Nick Mwendwa backs Morocco bid to host 2026 World Cup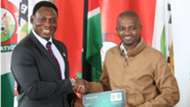 Kenya have stated that they will support Morocco's bid to host 2026 Fifa World Cup.
FKF President Nick Mwendwa has assured a delegation from the Royal Moroccan Football Association, who presented the bid book to him at the Federation headquarters at the Goal project in Kasarani on Wednesday, that Kenya will back the same.
"Morocco have shown they are ready to welcome the football world for the Fifa World Cup in 2026. As FKF we are going to support their bid as their project is for all Africans.
"We are fully behind Morocco's bid for the 2026 World Cup. A win for Morocco is a win for Africa."
Former Nigerian international Daniel Amokachi who is among a hosts of continental superstars backing the Moroccan bid said time is right for the showpiece to be hosted on the African shores particularly after the success of the 2010 showpiece in South Africa.
"It will be an honour for the whole continent when Morocco gets the opportunity to host the World cup. Not only are they ready in terms of facilities like stadia and hotels but have the history of leaving a mark in the tournament."
Russia will host the next tournament in June while Qatar will take charge of the 2022 tourney. With South American nations Argentina and Uruguay eyeing the centenary finals in 2030, Morocco are odds on favorites to earn the rights to the 2026 finals.
Should the North African nation succeed it will be the second time that the biggest football extravaganza is being hosted on the continent. South Africa hosted Africa's first ever World cup in 2010.