Nigeria
Fifa ban would have hurt Nigeria progress, says Abu Azeez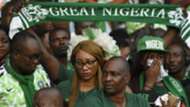 Enugu Rangers ' Abu Azeez is of the view that Fifa ban would have really harmed football development in Nigeria.
Azeez revealed that a FIFA ban would have made mincemeat of the Super Eagles' rebuilding process after their narrow first-round exit at the 2018 World Cup and send Nigeria's football back to the dungeon but for the Federal Government intervention.
The attacker pointed out that it was important to find a lasting solution to the impasse in the leadership of the Nigeria Football Federation to ensure it is nipped in the bud once and for all..
He also added that the non-completion of the league season has rendered many players redundant and unable to fend for themselves and their families.   
"It would have been a bad omen if Fifa had banned Nigeria from all football activities because all the players at the moment are not happy about the turn of the event all these while," Azeez told Goal.
"The league should be winding up by now. It is a good thing that we have avoided FIFA ban because we need to consolidate on our performance at the 2018 World Cup. It would have been bad if we had been banned because the Super Eagles are presently ongoing a rebuilding process.
"They would have been thrown out of the African Cup of Nations qualifiers with a game against Seychelles next month. The disadvantages of the Fifa ban seriously supersede its gains if any at all.
"I think with this that has just been resolved now we need to seek a peaceful resolution and not allow violence to be our norm at every election year. The administrators should put their acts in order and push for peace in all that they do."