CAF Champions League
Feutmba backs Sundowns to win their 2017 Caf Champions League group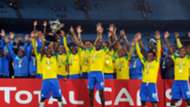 Legendary Mamelodi Sundowns midfielder Roger Feutmba says although his former side are in a tricky group, they have what it takes to win it and advance to the knockout stages.
"It's a tricky group. Most of the teams in the group have quality players, but I think Sundowns are on top of their game at the moment, even though, they've shown signs of fatigue at times," Feutmba told Goal.
Sundowns have been drawn in Group D with Tunisian giants ES Esperance, DRC side AS Vita and Ethopian outfit St George.
"I think Sundowns have recuperated very well and everybody can see the results. They are the defending African champions and I believe that going into the group stages they will show what they have in terms of quality players.
"I think they have a chance to go through. They have what it takes to top the group," Feutmba said.
Having played for Sundowns against against Esperance in the 2000 Caf Champions League, Feutmba doesn't see them posing any threat to the Brazilians.
"It's a different era. Different players, different attitudes of players, different mindsets. Esperance are not what they used to be. That's the reality.
"Sundowns have shown they are capable of beating any team in Africa by winning this competition. By saying so, it doesn't mean they have to go into the group stages taking things lightly," Feutmba concluded.