Manchester United
Ferguson mind games 'a load of crap' insists former Liverpool star McDermott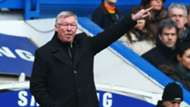 Former Liverpool star Terry McDermott has dismissed the idea that Alex Ferguson's 'mind games' were the catalyst for Newcastle's Premier League unravelling in 1996.
McDermott, who won five league titles and three European Cups with the Reds during his playing career, was assistant to Kevin Keegan during the 1995-96 campaign which saw the Magpies blow a 12-point lead over United to miss out on Premier League glory.
Man United star Herrera as good as Kante
The Red Devils eventually gained ground on Newcastle and won the league by four points.
One of the defining moments of that particular season, which is still referenced over 20 years later, was the rant delivered by Keegan after a win over Leeds United, taking aim at Ferguson, who he said had "gone down in [his] estimation".
However, McDermott insists that too much is made of the impassioned broadside, in which the Newcastle boss uttered the infamous line "I will love it if we beat them!"
"We were laughing about it. He knew what he was doing, Kevin. He's no one's fool, believe me," the former Magpies coach told RTE about Keegan's attack on Ferguson.
"He did have a pop and he was a little bit riled but he came on the coach and he was fine.
"People make it a lot more than what it was. Fergie mind games? That's a load of crap."
Newcastle finished the season without a trophy and Keegan resigned mid-way through the next campaign, though his side secured a second consecutive runners-up finish that season.