Fantasy Football
Fantasy football injuries: Who to avoid in Premier League 2017-18 game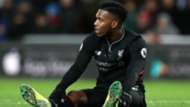 With the 2017-18 Premier League season just around the corner, fantasy football aficionados will be mulling over who to pick in their squad in order to yield the biggest possible points return.
Choosing the best selection is more difficult than it sounds, with plenty of variables to consider; it's not just about populating your squad with the best players, it is about identifying the highest scorers, cleverly utilising your budget and anticipating changes.
Who is favourite to win the Premier League?
One of the main things to keep in mind when weighing up your options is whether a player is going to play a lot of games, so knowledge of injury history is a valuable asset, as is keeping on top of the latest news in case one of your key men has been ruled out.
Goal takes a look at some of the players who may be worth avoiding in this season's fantasy football season.
---
INJURY PRONE FANTASY FOOTBALL PICKS
---
| Player | Club | Price |
| --- | --- | --- |
| Daniel Sturridge | Liverpool | £8m |
| Danny Welbeck | Arsenal | £7.5m |
| Santi Cazorla | Arsenal | £7m |
| Vincent Kompany | Man City | £6m |
| Luke Shaw | Man Utd | £5m |
Daniel Sturridge (Liverpool - £8m)
The injury woes of Liverpool star Daniel Sturridge have been well documented and, while the 27-year-old's ability is undoubted, he is not exactly a reliable pick when it comes to fantasy football.
Sturridge scored 21 goals in 29 games back in 2013-14, but he has struggled to find any sort of consistency in the last three years. Surprisingly, with that in mind, the England international will still set fantasy managers back £8m, which is a decent chunk of a budget that could be spent elsewhere on more solid options.
Danny Welbeck (Arsenal - £7.5m)
Arsenal's Danny Welbeck scored just 37 points in a season where he made just 16 appearances, eight of which were starts. The former Manchester United man is a £7.5m forward, but the stats do not seem to justify his price-tag.
Football Manager 2018: What we know
Welbeck has started well for the Gunners in pre-season and will hope to put his injury nightmares behind him, but picking him would be a gamble, particularly with Alexandre Lacazette likely to lead the line for Arsene Wenger's side in this campaign.
Santi Cazorla (Arsenal - £7m)
Spanish playmaker Santi Cazorla would have been a decent choice a number of years ago, but he has struggled with injuries and form in the last few seasons. The 32-year-old is rated as a £7m midfielder, but with just two goals and 23 league appearances in the last two campaigns, he is on a downward trajectory.
Furthermore, it is probably not a good sign that the Gunners attacker is currently out injured as uncertainty surrounds his future at the Emirates Stadium.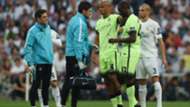 Vincent Kompany (Man City - £6m)
Manchester City's captain and leader Vincent Kompany has endured a nightmarish few years, with injuries limiting him to just 11 Premier League appearances last season — and the Belgian featured a measly 14 times in the league the season before that. Despite that, however, he is one of City's most expensive defenders in fantasy football and one to avoid.
Luke Shaw (Man Utd - £5m)
During his time at Southampton, Luke Shaw forged a reputation as a full-back who could cross the ball into the box and create goal-scoring opportunities. However, since moving to Manchester United he has played just 38 times in the league over the course of three seasons, 29 of which were starts.
Shaw's return from injury last year was cruelly cut short right at the end of the season as he suffered an ankle injury and, while he is training ahead of the new campaign, there is no guarantee that he will walk straight back into the team.
Jack Wilshere (Arsenal - £5.5m)
Once considered the future of Arsenal and England's midfield for years to come, Jack Wilshere has instead seen his career become a story of one injury after another. The 25-year-old has been plagued with all sorts of injuries, including ankle and knee ligament tears.
The 2016-17 season with Bournemouth was his best in years in terms of minutes on the pitch and it looked like things had taken a turn for the better, but he managed to have that tainted by cracking a bone in his leg towards the end of the season. 
Seamus Coleman (Everton - £6.5m)
Everton's Seamus Coleman is one of the more expensive defenders in fantasy football this season, despite the fact that he is set to miss the start of the season as he recovers from a horrific leg-break. While the Republic of Ireland international could come back and score well (he bagged 133 points last year even though he missed 12 games) it will probably take him some time to get back up to speed.
---
PLAYERS WITH DISCIPLINE ISSUES
---
As well as injuries, it is important for fantasy football managers to be mindful of their squad's disciplinary history and whether players are likely to accumulate a lot of cards over the course of a season.
Points are deducted from players who are shown yellow (minus one) and red cards (minus three), so, while some coaches might want their players to display edgy aggression on the pitch in real life, it is nothing but bad news when it comes to fantasy football.
We've taken a look at some of the worst offenders from last season to avoid this term.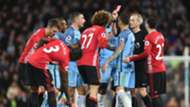 Marouane Fellaini (Man Utd - £5m)
Marouane Fellaini's ability to score headers and make a nuisance of himself in the box have seen him post impressive scoring tallies in his career. The Belgium international finished the 2012-13 campaign at Everton with 11 league goals and, while he hasn't scored as much for Manchester United, he did score six times in 2014-15.
At £5m, fantasy football managers might be tempted to include the 29-year-old as a midfield option, but he had 12 points taken off him last season because of his recklessness. Fellaini picked up nine yellow cards and one red, meaning that he ended up with a disappointing total of 48 points. 
Harry Arter (Bournemouth - £5m)
Republic of Ireland international Harry Arter was an important player for Bournemouth last season and while he hasn't scored many in the Premier League, he was considered a goal-scoring midfielder in the Championship and League One.
Having scored 84 points, he may be seen as a tempting 'bargain buy', but Arter's disciplinary record last season cost him and his fantasy football managers 15 points. Considering his combative style of play, that is not likely to change any time soon. Indeed, it is worth noting that he hit double figures in yellow cards in four out of the last six seasons.
Miguel Britos (Watford - £4.5m)
Watford's Uruguayan defender Miguel Britos lost 14 fantasy football points last season after being cautioned eight times and sent off twice. Rather than scoring what would have been a commendable 85 points, the 32-year-old's ill-discipline cost those managers who picked him last term.
Diego Costa (Chelsea - £10m)
Diego Costa scores goals, but he also has a tendency to get into trouble with the referee for his antics on the pitch. Costa saw yellow 10 times in the league last year, losing 10 points in the process. The Spain international was the third highest scoring striker in last season's fantasy football, but if you are going to splash out on a forward, perhaps it would be better to opt for one with better discipline.
Marko Arnautovic (Stoke - £7m)
Stoke winger Marko Arnautovic is seen as a decent mid-priced midfielder thanks to his eye for goal. The Austria international scored 17 league goals and set up 11 more in the past two seasons, meaning that he is a consistent scorer. However, if it comes down to Arnautovic and another £7m midfielder, it's worth bearing in mind the fact that he lost 12 points last season thanks to his collection of one red card and nine yellows.