KPL
Fans unite to condemn hooliganism acts on Gor Mahia fans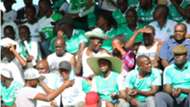 A section of Gor Mahia fans sustained injuries on Thursday after a Nissan they were travelling in was stoned by hooligans in Kericho town.
The Green Army followers were returning home after attending a Kenyan Premier League match against Zoo Kericho, where the champions won 4-2. It is an incident that has not been taken lightly by football lovers, and some of them have used social media platform to condemn the act.
Here are some of their comments:
"I don't support what Kericho people have done but kindly let's not pray for revenge many innocent ones will suffer and not the culprits. Let football unite us. Please Gor fans affected poleni leave revenge for God, Kisumu suffered during election and I know this will trigger more sufferings for those people who come to stadium to watch Gor play not knowing the fate our fans passed through," - Beryl Monique Oketch, Gor Mahia fan.
"Zoo Fc fans did not stone no one. Whatever might have happened is the work of criminals and enemies of #FcukZoo and Zoo Fc condemns it. Zoo fans are evidently a peaceful people and have never engaged in violent acts against anyone ever," - Mwania Sos, Zoo Kericho fan.
"My question to these idiots is, what do you expect when your team goes for the return match and it's scheduled in Ksm?, I hope the high and mighty fkf notice this and do something about it before it escalates further," - Sophie George, Bandari fan.
"What Kericho residents did is uncalled for and unsporting behavior, but you (read as Gor Mahia Fans) should not repay evil with evil. I preach PEACE. CEASEFIRE Wasee. If Gor Mahia hosts Zoo in Kisumu for the return leg, let the concerned persons ensure that no revenge is leveled against the innocent players and their officials #PeaceKende," - Keke Roy.