Toyota Football Engine
Fans' Asian Player of the Week: India's Gurpreet Singh Sandhu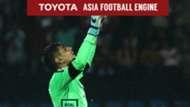 India's Gurpreet Singh Sandhu has been chosen as last week's Fans' Asian Player of the Week, following his impressive performance in his team's 0-0 draw with China in an international friendly in Suzhou.  
The goalkeeper made a string of saves and was also named Goal's Asian Player of the Week. 
He made a flurry of saves throughout the match with several of them standing out. At the 30-minute mark, Gurpreet stretched his leg out and made a save from a seemingly dangerous attack. The Indian goalie made a brilliant goal-line save in the 77th minute as China kept attacking before making a flying save off an injury-time header.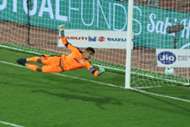 Also in the fray for the honour was Indian captain Sandesh Jhingan.
But the fans made their voice count as Gurpreet received a whopping majority of the votes.