Fandi Ahmad
Fandi must change his coaching formula to achieve success at AFF Championships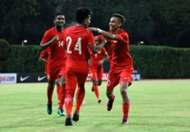 Singapore's defeat to Myanmar in the under-23 friendly last Wednesday at the Bishan stadium will only put Fandi Ahmad's coaching credentials into question. Fandi is expected to lead Singapore at the AFF Suzuki Cup and it is safe to say that expectations will not have risen after watching his charges humbled by a hungrier Myanmar team.
The 56-year-old interim national coach called up a 23-man squad with players coming from seven Great Eastern-Hyundai Singapore Premier League (SPL) clubs, and included six that were not from the Young Lions in the starting line-up. Maybe deep down he knew that players from the Young Lions were still raw given how they lacked senior figures to guide them in the league.
Myanmar would break the deadlock first through a clinical finish on 40 minutes thanks to Win Naing Tun, who blasted the ball into the top left corner after being played through. In desperation Fandi with a lack of ideas decided it was best for Captain Irfan Fandi to be pushed upfront to be the targetman. Now this move from Fandi screams desperation which reflects the state of football in the country. Allowing Irfan to become a targetman means that the team will now be forced into playing long balls which stifles the creativity of the team.
This move from the coach meant that Singapore became England instead of aiming to be Spain or France; where possession and creativity reigns supreme. Indeed pushing Irfan upfront would produce no result as Singapore's opponents would go on to get the second goal just past the hour mark.
Singapore responded strongly and increased the pressure at the other end, but was unable to find much joy against a stout Myanmar defence.  Defeat ultimately was inevitable but one takeaway from here is that Fandi lacks tactical nous. Yes, it can be agreed Singapore may have a limited pool of players with supreme technical abilities but then again what separates a good coach from a bad one is how he is able to get the best out of his team despite disadvantages.
From what was witnessed at the Bishan stadium it appears that our coach needs to do some deep thinking. The AFF Suzuki Cup is a few months away. Expectations are low and may have sunk lower after this defeat. Fandi needs to find his formula and fast or he could be facing the ultimate humiliation in his coaching career come November.