NPFL
Ezekiel Onyegbula promises to ring changes at Heartland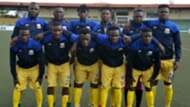 Heartland FC new coach, Ezekiel Onyegbula has hinted that there will be a major overhaul of the team during the mid-season transfer to ensure that experienced players are brought in to reinforce the team.
The Owerri side are still within the relegation zone despite a hard-fought 2-1 home win against Nasarawa United on Sunday and the tactician noted that his first major task would be to fortify the entire departments.
"I want to thank God for this win because it meant a lot to me in my first match with the club," Onyegbula told media.
"It was a tough match and I must admit that the players fought so hard to ensure that the maximum points are earned at the end of the game. It was my first match in charge and it was very crucial that we got this victory.
"There will be some overhauling of the team during the transfer window when we shall bring in more experienced players to fortify the team.
"The players with the team are trying their best but with more experienced players, we will be able to get results without much effort like we are getting presently.
"I want to appeal to the players to continue to do their best for the team knowing that we need to have improved results in our upcoming matches especially in Port Harcourt against Rivers United on Sunday."