Kaizer Chiefs
EXTRA TIME: Watch South Africa's ambassador to Madagascar welcomes Kaizer Chiefs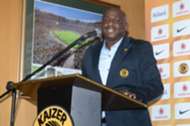 This time Kaizer Chiefs won home and away, beating Madagascar club Elgeco Plus 3-0 in South Africa.
Then Chiefs also won 3-0 away in Madagascar. Many fans accused them of going on a holiday to Zanzibar when they lost the away leg in the previous round.
WIth positive results, nobody can complain that Chiefs players also enjoyed their time on foreign soil. Here you can see South Africa's ambassador to Madagascar, Maud Dlomo welcome the PSL team.
Club media officer Vina Maphosa shared photos of the team and his trip in the country with us on Twitter. As a bonus we added a Tweet from former Chiefs star Knowledge Musona underlining that the rumours of his return are not true.
🇿🇦 Ambassador Dlomo Madagascar 🇲🇬 @KaizerChiefs good wishes pic.twitter.com/prLt28Gi0b

— Vina (@alfavina) December 22, 2018
To all my lovely Kaizer Chiefs supporters.The rumour circulating on social media is not true.I never said i will not come back but time will tell.Thank you for the love you have shown me even if i left years https://t.co/m4fianYiDE deserve the https://t.co/P5ZmYhOjPV Y'all ❤️&✌🏻

— KMusona Official (@KMusonaofficial) December 19, 2018
Win 6-0 Aggregate @CAF_Online @KaizerChiefs yes Makhosi pic.twitter.com/cDzha8AySW

— Vina (@alfavina) December 22, 2018
I love @KaizerChiefs ✌🏻✌🏻✌🏻✌🏻✌🏻 pic.twitter.com/iocFZawii7

— Ayakhanya Khoselihle (@Tobisani1) December 22, 2018
Work @KaizerChiefs pic.twitter.com/JVaUM2V1g4

— Vina (@alfavina) December 21, 2018
The Kaizer Chiefs team was welcomed by South Africa's 🇿🇦 Ambassador to Madagascar: Ambassador Maud Vuyelwa Dlomo. Thank you for the well wishes #HailTheChief #Amakhosi4Life pic.twitter.com/hl1EsZofam

— Kaizer Chiefs (@KaizerChiefs) December 22, 2018
Don't be ashamed of your story it will inspire others 🙏🙏🙏 #GameDay last game of the year let's end it off on a high ❤️&✌️ @KaizerChiefs @adidasZA pic.twitter.com/riUSJqesLc

— daniel cardoso (@D_cardoso_7) December 22, 2018