South Africa
EXTRA TIME: Watch Shaun Bartlett urge Bafana fans to fill stadium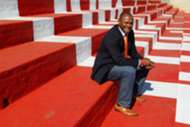 Before Bafana Bafana take on the Super Eagles on November 17, they will be asking star players and legends to urge the supporters to come to the stadium.
That's after a disappointing showing against Seychelles in terms of fan attendance. They won that game 6-0 so on the field they impressed the last time out at home.
Though SA failed to score away in Seychelles. So, Safa is hoping that this time the fans will turn up for their biggest home game of the group, Nigeria.
You can listen to South Africa's striking legend, Shuan Bartlett express his hopes for the fans to support here.
@shaunbart9 urges you to come support @BafanaBafana on 17 November 2018 when they take on the Super Eagles of Nigeria in an AFCON qualifier at FNB Stadium at 15h00 pic.twitter.com/EjkB9urUvS

— SAFA.net (@SAFA_net) November 6, 2018