Kaizer Chiefs
EXTRA TIME: Watch our throwback to the previous Carling Black Label Cups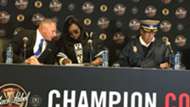 The Carling Black Label Cup started in 2011 by introducing the South African domestic season with the ultimate clash between Kaizer Chiefs and Orlando Pirates.
Bucs won the first encounter, and then went on to clinch four out of the first five of these Soweto Derbies.
However, Amakhosi fought back by winning the last two editions. So Pirates lead 4-3 in the overall standings.
In this special collection of throwback social media videos, we capture the essence of the excitement of this unique fixture.
Initially, the are many videos showcasing Chiefs recent dominance. We don't just have footage of the team lifting the trophy, but also the build-up from the fans around the stadium.
We provide you with flash-backs of interviews, as Chiefs and Pirates used the occasion to show off their new signings, the fans getting their first opportunity to spot the players wearing their famous jersey.
There are also previews by local television shows and an SABC news insert on the occasion.
Enjoy all the throwback videos here:
Carling Black Label Cup Champions #SowetoDerby #CarlingCup #Amakhosi4Life pic.twitter.com/DDTmXTkoxm

— Kaizer Chiefs (@KaizerChiefs) July 29, 2017
Carling Black Label Cup - 2017 Edition: https://t.co/oxpa45BcnH #Amakhosi4Life

— Kaizer Chiefs (@KaizerChiefs) July 7, 2017
Before the 2016 Carling Black Label Cup match, outside the cute Calabash. These guys are so well talented ✌✌ pic.twitter.com/XJUpKko61N

— Peter Makhubela (@Peter_Makhubela) August 4, 2016
Carling Black Label Cup: The Champion Coach experience https://t.co/xjxm2j0itH

— Kenneth (@SKmtshali) May 26, 2016
LIVE on #Periscope : Carling Black Label Cup #Amakhosi4Life https://t.co/nZQ9A2iGTc

— Kaizer Chiefs (@KaizerChiefs) July 30, 2016
Carling Black Label Cup Celebrations: Glamour Boys https://t.co/TKeA5LbMHP #Amakhosi4Life

— Kaizer Chiefs (@KaizerChiefs) August 2, 2016
VIDEO | Orlando Pirates gears up for Carling Black Label Cup https://t.co/ciNngBQJF4

— SABC News Online (@SABCNewsOnline) July 26, 2017
The noise inside FNB Stadium for the Carling Black Label Cup between @Orlando_Pirates and @Kaizer_Chiefs pic.twitter.com/Ba2WRl6Y7D

— Phakaaathi (@Phakaaathi) August 1, 2015
VIDEO | Pirates meet Chiefs in Black Label Cup https://t.co/Rv4yigLetj

— SABC News Online (@SABCNewsOnline) July 29, 2017
Black Label Cup 2015, Pirates advert ft Siya Shezi and Charlie: http://t.co/5SBNqIGysq via @YouTube

— DMPmzansi (@DMPmzansi) July 30, 2015
Kaizer Chiefs Vs. Orlando Pirates Carling Black Label Cup Trailer 2014: http://t.co/ueG91YwB9M via @YouTube

— Brett Rory Sherriff (@13godzillawoman) June 26, 2014