Kaizer Chiefs
EXTRA TIME: Watch Kaizer Chiefs stars and South African football's message against violence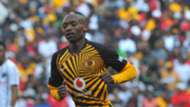 Criminal incidents have taken centre stage on social media in South Africa, so much so even football players, clubs and legends have come out to have their say on the rising problem.
The country has read about a number of scary rape, murder and other violent incidents making the headlines in the news lately. Then the recent xenophobic attacks in Johannesburg, targetting shops and vehicles became so worrying, Bafana Bafana's fixture against Zambia had to be cancelled.
South Africa ended up inviting Madagascar to play a friendly match at Orlando Stadium on Saturday. The football calendar moves on, but the following reactions on social media is demanding the violence against women, children and foreigners need to stop in South Africa.
In the first video we see Kaizer Chiefs stars from various countries coming together with Willard Katsande (Zimbabwe), Daniel Akpeyi (Nigeria), Itumeleng Khune, Lebogang Manyama, George Maluleka, Ramahlwe Mphahlele and Daniel Cardoso (South Africa).
The teammates are demonstrating how all Africans should be united and refrain from violence against one another.
Since the protests across the country is also about violence against women and children, we take a look at much more reactions from South African football players, the media and the government.
One #HashTag Africa 🙏🏼#SayNOToXenophobia @KaizerChiefs 🧡&✌🏼 pic.twitter.com/YVyp8LBprW

— IIKHUNE3216 (@IIKHUNE_32_16) September 4, 2019
Food for thought! pic.twitter.com/9djTSMXfb3

— Marks Maponyane (@MarksMaponyane) September 4, 2019
The message was loud and clear 20yrs ago....A Nation failed it's women....the stats have just gotten worse!! It has to STOP NOW!!! https://t.co/ghrYIq2wCS

— robertmarawa (@robertmarawa) September 3, 2019
We have a history in this country of resisting violence and of working tirelessly towards a society that upholds and respects the human rights and dignity of our people. Let us build on that history. This is a TIME to act – a time to be bold and decisive.

— Cyril Ramaphosa 🇿🇦 (@CyrilRamaphosa) September 3, 2019
🙏🏿🙏🏿🙏🏿 https://t.co/rIziRpEGBM

— Lebogang manyama (@Lebza08Manyama) September 3, 2019
"When brothers fight to death, a stranger inherits their property"

-African Proverb🕯

— Masechaba Ndlovu (@MasechabaNdlovu) September 3, 2019
A Charlize Theron banned ad from 1999. Fast forward 20 years and it's only gotten worse. 🇿🇦 @CharlizeAfrica pic.twitter.com/87DYedFGHx

— Lady Skollie🇿🇦 (@LadySkollie) September 3, 2019
The LORD examines the righteous, but the wicked, those who love violence, he hates with a passion
Psalm 11:5#inGodwetrust #SayNoToXenophobia #africaweareone pic.twitter.com/Hyt8oMhOkS

— Khama Billiat Official (@khama_Billiat11) September 3, 2019
🤝lets stop all this violence towards our woman! pic.twitter.com/bNRhw6dfMo

— Diego Brown (@diegobrown21) September 3, 2019
Self hate&inferiority complex is when Africans turn against each other&use violence as a tool for communication. Steve Biko said "the potent weapon in the hands of the oppressor is the mind of the oppressed". We condemn Xenophobia&we call for Unity in Africa #SayNoToXenophobia pic.twitter.com/Y3UxxAXMgy

— SAFPU (@SAFPU_Official) September 3, 2019
I call on Zambians both locally and abroad to remain calm and disengage from acts of violence as they voice out their grievances.
There must never come a time when hatred among Africans should appear to be normal.Those preaching hate must stop.
Let us pray for peace and unity 🌍

— Edgar Chagwa Lungu (@EdgarCLungu) September 4, 2019
Stop the violence. Real men don't hurt woman and children. I have a voice and I am prepared to use it. Stand with me South Africa this cannot continue, this it not ok and this will no longer be tolerated! pic.twitter.com/tyelCoFM0G

— Garreth McLellan (@SoldierboyInc) September 3, 2019
The President's comments regarding gender-based violence and recent spate of killings @CyrilRamaphosa 🇿🇦❤️ pic.twitter.com/1oRQIgWdeE

— Gershawn Coetzee © (@gershawncoetzee) September 4, 2019
WATCH: DA MP @NazleySharif's powerful message to SA:

"When we speak about equality, we must speak about social equality. The ability to do everyday things, without fear. To feel as safe and secure as men do in this society." pic.twitter.com/eED81IGV7k

— Democratic Alliance (@Our_DA) September 3, 2019
Let that digest....

Lawlessness is part of SA life.

When the Death Penalty is suggested then the "intellectuals" tell u of a sophisticated Constitution that must be adhered to.

Barring leadership that doesn't exist, citizens ought to be protected...Solutions?? pic.twitter.com/lrHygq7IHU

— robertmarawa (@robertmarawa) September 3, 2019
South Africa STOP the violence, we are people of LOVE & PEACE, stand together as a family, respect human life. Respect women,men, children and respect yourselves. This is not who we are. This is not the rainbow nation we know.We ask you to keep calm,stay safe #Amakhosi4Life🧡&✌🏼 pic.twitter.com/Sg8MrmrTUj

— IIKHUNE3216 (@IIKHUNE_32_16) September 4, 2019
"We are each other's harvest; we are each other's business,we are each other's magnitude and bond" #AfricaUnite pic.twitter.com/6rokV9CbKp

— Carol Tshabalala (@SimplyCarol8) September 3, 2019
Say No to xenophobia,Women n Child abuse#Africaweareone#Love n Peace ❤️✌🏽 @KaizerChiefs pic.twitter.com/I4u5UE5m5T

— Lebogang manyama (@Lebza08Manyama) September 4, 2019
Third house break-in in just over a year... Satafrika.

— Chad Klate (@CKlatey) September 4, 2019
Khayelitsha home belonging to Uyinene Mrwetyana's alleged murderer set alight. Story here: https://t.co/PrSH0Trj6a

— Mninawa Ntloko (@ntlokom) September 3, 2019