African All Stars
EXTRA TIME: Watch Farouk Khan go to Braga and Benfica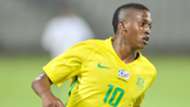 Check out former Kaizer Chiefs assistant coach and Stars of Africa boss Farouk Khan driving to watch Luther Singh. It's like a scene from a movie where the bride is late, only Khan is driving on the right side of the road.
Is he going in the right direction? The sign boards indicates as such, but Sporting Braga beat Portimonense 2-1 on Saturday. Luther Singh didn't get a game.
Whatever the case, Khan also soaked in some exciting Portuguese football with Benfica beating Chaves 3-0, and has some tips for academies on his Twitter.
Benfica 2 Chaves 0.Two goals by Brazilian Jonas.Exciting attacking multi dimensional football. pic.twitter.com/FHtQfmV8KP

— Farouk Khan (@FaroukKhan9) January 20, 2018
Lunch and then of to the match. pic.twitter.com/1xEjtQB6NH

— Farouk Khan (@FaroukKhan9) January 21, 2018
Eusebio the African Legend who is worshiped by Europeans.😁😁😁 pic.twitter.com/zaGUa6x7tW

— Farouk Khan (@FaroukKhan9) January 21, 2018
Arrived in Lisbon.Hotel then of to the stadium to watch Benfica play..😁😁😁 pic.twitter.com/LntnkcmX6a

— Farouk Khan (@FaroukKhan9) January 20, 2018
Benfica support for normal league game. pic.twitter.com/M9bZZau5Gn

— Farouk Khan (@FaroukKhan9) January 21, 2018
On the way to the Stasuim of light. pic.twitter.com/gcV5IELJGz

— Farouk Khan (@FaroukKhan9) January 22, 2018
Football is big https://t.co/f7l4UsVFPh the past 4 years they have transferred players to the tune of 220 million €.There annual budget for their Academy is 4.5 million €. pic.twitter.com/biAl1AHImX

— Farouk Khan (@FaroukKhan9) January 23, 2018
We are heading for Braga to watch Luther Singh play. pic.twitter.com/dlXmduxFq2

— Farouk Khan (@FaroukKhan9) January 21, 2018