African All Stars
EXTRA TIME: Renard, Benatia congratulate King Mohammed VI of Morocco on Throne Day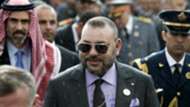 Morocco coach Herve Renard, captain Medhi Benatia led some of the country's stars to celebrate the 19th anniversary of King Mohammed VI enthronement.
Throne Day is a national occasion celebrated on July 30 of every year that commemorates the King's accession to the throne.
King Mohamed VI began his reign in 1999 after succeeding his father on July 23 but he officially took the throne on July 30.
And some of the Atlas Lions' stars have joined the rest of the country in sending their best wishes to the country's numero uno.
"Best wishes to His Majesty Mohammed VI who celebrates 19 years of reign," Benatia tweeted.
Meilleurs vœux à Sa Majesté Mohammed VI qui fête 19 ans de règne.
Allah! Al Watan! Al Malik
🇲🇦🇲🇦🇲🇦 #dimamaghrib pic.twitter.com/r1W0SP8u1V

— MBenatia5 (@MedhiBenatia) July 30, 2018
"Congratulations His Majesty King Mohammed VI for these 19 years at the head of Morocco," Ait Bennasser tweeted.
Félicitations Sa Majesté le Roi Mohammed VI pour ces 19 ans à la tête du Maroc 🇲🇦🇲🇦🇲🇦
الله الوطن الملك pic.twitter.com/oFOaU3IbMa

— Y. Ait Bennasser (@YAitbennasser) July 30, 2018
"I wanted to convey my sincere congratulations to His Majesty King Mohamed VI on the occasion of the 19th anniversary of the accession to the throne.Best wishes for health and happiness," Renard tweeted.
Je tenais à transmettre mes plus sincères Félicitations à sa majesté le Roi Mohamed VI à l'occasion du 19eme anniversaire de l'accession au trône.
Meilleurs vœux de santé et de bonheur 🙏🏻🇲🇦
Vive le Roi, Vive le Maroc 🇲🇦
Dima Dima Maghrib pic.twitter.com/narw1E6W24

— Hervé Renard (@Herve_Renard_HR) July 30, 2018
"Feast of the Throne of Glory, may God preserve you and protect you, my lord King Mohammed VI," En-Nesyri wrote on Instagram.