African All Stars
EXTRA TIME: Kevin-Prince Boateng visits United Nations office in Geneva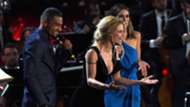 Eintracht Frankfurt midfielder Kevin-Prince Boateng returned to the United Nations office in Switzerland for discussions on racism and human rights, five years after his first visit.
In March 2013, the former AC Milan star addressed the United Nations at the International Day for the Elimination of Racial Discrimination in Geneva – his invitation was prompted by his action during a football game.
The midfielder, a leading voice in the fight against racism in football, walked off the pitch after being abused by sections of the crowd in a friendly game between AC Milan and Pro Patria in January 2013.
His actions led to the abandonment of the encounter as his teammates joined him in walking off the pitch.
However, Boateng who clocked 31 today, Tuesday, was present in Geneva to have a discussion with the United Nations Human Rights Council on ways to fight racism and stand up for human rights.